Kadri Voorand – Daring to Dream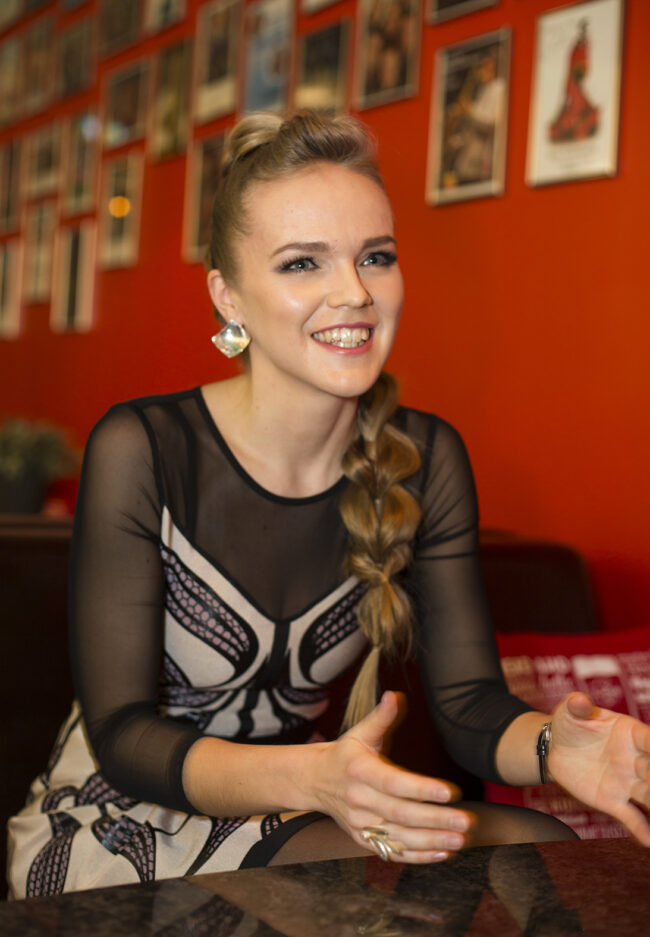 Kadri Voorand, it is no exaggeration, has grown up with music. However the 30 year-old singer and multi-instrumentalist has never liked to rest on her laurels. It's ironic, then, that we met at the Estonian Music Awards, the annual celebration of achievement that saw Voorand later join with acapella group Estonian Voices to celebrate the life of punk legend Villu Tamme, in typically explosive fashion.
Voorand was also honoured at the ceremony for her album Armupurjus, taking home Best Jazz Album and Best Female Artist. The album was released with the Kadri Voorand Quartet in 2016, breaking out of any lazy genre classification to bring jazz into a collision with rock and electronic influences. The album, which is about as far as anyone can get from trad-jazz balladeering, nonetheless got a great reception from the public inside and outside Estonia.
"I'm very happy that even though it's eclectic – I wouldn't call it a jazz album, it has ambient vibes, it has hard rock influences – some sounds have been reaching a young audience and some an older audience, and it's coming together very well. I don't want to decide any more what genre it is – I think that time is over. Critics still accuse me of trying to put myself into too many boxes at once, but I don't want to be in any box. I'm just doing what I want."
The title might raise some questions from non-Estonian-speakers, so Voorand explained it. "It's Drunk from Love, but in English it sounds kind of soft, the word was originally dreamt up by an Estonian poet, Andres Ehin, and it's kind of a rebellious word. It's not soft, it's kind of punk. It's also about bringing different topics to the table – for example, being 'drunk' with what's going on in the world, with finances, and markets going up and down, and maybe trying not to assume the most likely thing will happen."
"Not only me but the band, we let our lines fly wherever we wanted to. I was a teenager when we all started out, and we know each other's language so well – sometimes we create new songs on stage, and the audience might not be aware. We just try to have fun, and it doesn't matter to us what style it is. The jazz part is the freedom to improvise with the materials we have, but we can do whatever we want, and we're really in love with it."
It's all part of an ever-shifting musical career for the restless Voorand, who has several projects and loves to experiment with her voice and a variety of instruments. "I never do anything just to get it done. My moods change. My focus is mostly on Estonian Voices and the Quartet. But I wouldn't want to live without the classical side, for example the Avarus Ensemble, which is more towards modern classical music, so the complete opposite of some of the things I placed on my CD. So I like to travel between these different galaxies."
It all comes from childhood. Shaking her head when asked if her parents' record collection was a major influence, Voorand instead pointed to a more traditional way of learning music. "Growing up, all my summers, I spent outside with my mother's folk group. Those parties were a part of my life. Different families would come together from around Lahemaa, grannies, grandpas, mothers, fathers, to dance, sing, play different instruments. I didn't understand as a young girl that I was performing. I just thought, 'oh, great, the party's today!' This was the same whether it was family and friends, or visiting politicians, who were there. We were their representative folk group."
"I think I started going to those performances when I was born, because my mother was not the sort to stay at home. As I grew up, I played classical piano for twelve years, then for several years I didn't play at all – I've just taken it up again. I also studied violin. I was really lucky, and this is something I've discovered, because this sort of tradition wasn't happening in every family – I thought everybody did it!"
This upbringing has made the performance of music, and the creation of new songs, feel totally natural to the adult musician. "Of course I'm always looking to learn new technical things, but for me, music is a drug, and it's therapy – I sometimes feel I'm living a parallel life in music. I like to take a trip into this world, and dream about things I never otherwise would. You can imagine yourself in this world so clearly, and it's so comforting. When you get tired of all this crap that's going on around you, you can dive into this world, and it's real, and it's all around you."
She elaborated when asked if she is a perfectionist, explaining that the feeling of what could be possible is as important as the knowledge of what has already been done. "I think you have to be prepared as well as you can to present emotional information – if you're trapped with technicalities, you can't get that across. I think when I started off composing, I composed things I knew how to compose, putting harmonies in that I knew, for example. That can continue for your whole life – you know how to compose for those instruments, and you just do it. So it's very necessary to know how to do it. But you know how sometimes, you can hear your own voice in your head? Well it's important to listen to what you hear in your head, and not just start writing what you're capable of making."
Tallinn Music Week is approaching in March, and Voorand is one of the star performers in the showcase festival. "I'm coming out with a new duo, with the double-bass player Mihkel Mälgand – we're doing our first performance at Tallinn Music Week. It's new music, but it's closer to what I'm doing with Kadri Voorand Quartet; I think some ideas have grown out of there. I think I'd like to take a few steps back in noise level, and see how we can combine our technical capabilities in this music and see what we can bring to this music. It's piano, bass and voice – and sometimes just bass and voice."
The rest of the year is packed with concerts. "We're touring China with Estonian voices, and there are lots and lots of other performances through the year, and then in November Taavo Remmel and I are going to do a special project with the Estonian Philharmonic Chamber Choir, and we're going to write music especially for them. It's one of the things I'm looking forward to that's new this year." 
Kadri Voorand & Mihkel Mälgand will be performing for Tallinn Music Week at Vaba Lava on March 31, details and link to ticket sales from tmw.ee. Armupurjus by the Kadri Voorand Quartet is available now.
TEXT STUART GARLICK, PHOTOS ANDREI CHERTKOV
To learn more about this and similar topics