Why is Estonian women's tennis riding high at the moment?
Text Mark Taylor
Photos ETA 2022 /  Igor Pissarev,
ETA 2022 / Mauri Levandi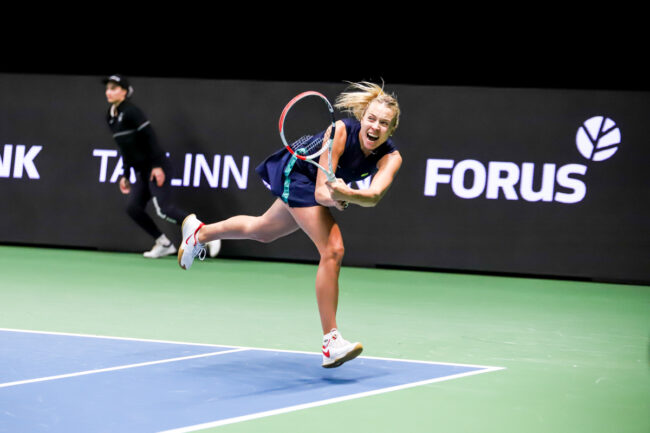 Anett Kontaveit is the most successful Estonian tennis player of all time.
The success of Anett Kontaveit (WTA 17) and Kaia Kanepi (WTA 29), as well as a number of promising young players in the top 1000 in both the men's and women's game, has posed a question. Why is Estonia doing so much better at producing players than some of its neighbours (including Finland), as well as many other much larger nations?
For Allar Hint, the general secretary of the Estonian Tennis Association, the development of facilities has played a major role. "When I played in the 1990s we only had 5 indoor courts in Tallinn, now there are 50-70." This isn't a phenomenon restricted to Tallinn either, with growing numbers of tennis facilities in Tartu, Parnu and all the regions of Estonia.
This is something that is echoed by Estonia's number one player Anett Kontaveit, "We have really good facilities and conditions for playing tennis. Tennis is increasingly more popular".
Another factor behind the growing popularity of tennis in Estonia is the yearly Tennis month ("Tennnisekuu"), where free opportunities to try tennis are provided around the country every September to Mid-October.
However, by far the biggest draw to tennis for new players is the success of Estonia's professional players. "The success of Annett and Kaia has been great for Estonian tennis and has attracted a lot of boys and girls to start playing tennis. They are the best advertising campaign of all," Hint exclaims.

For Hint, "it is not just about the opportunity to play, but to succeed." This is why the tennis association has worked hard to develop coaching education, which is now at the ITF silver level as well as a tournament structure both nationally and internationally.
The pinnacle of that tournament structure being the WTA 250 Tallinn Open, which took place for the very first time this September. As well as Kontaveit and Kanepi, home fans got to see many top 20 players including Madison Keys (WTA 11), Belinda Bencic (WTA 13), Beatriz Haddad Maia (WTA 15), and top Latvian player and former French Open winner Jelena Ostapenko (WTA 18).
"It is special to have this level of tennis here at home and for kids to see that. To see the best players in the world play in front of you. You see how good they are, you kind of feel it. It gives you motivation," said Kontaveit.
Estonian number two Kaia Kanepi added that, "Estonian fans and coaches saw such a high level of tennis and players, maybe they have never seen live. It's good for everybody."
With Estonia having four other young women and three young men all under the age of 24 climbing the ranks in the top 1000. Estonian tennis is going from strength to strength.

ANETT KONTAVEIT
Born on December 24th 1995 (age 27) Tallinn
A professional since 2010
Height 1.74 m
Best ranking: WTA 2 in June 2022
Currently ranked 17
The most successful tennis player in Estonian history

KAIA KANEPI
Born on June 10th 1985 (37 years old) Haapsalu
A professional since 2000
Height: 1.81 m
Best ranking: WTA 15 in 2012
Currently ranked 29
The first Estonian player to reach such a high-level in the professional game
To learn more about this and similar topicsAnett Kontaveit Estonian Tennis Association Kaia Kanepi Tallinn Open Tennis Tennis Facilities Tennis in Estonia WTA 250 Tallinn Open