Jukka Toijala takes Estonia's basketball team to the European Championships
At the Audentese Sports Center in Tallinn, young athletes rush to their workouts and greet Jukka Toijala happily as they go. 
Text Petri Saraste
Photos Hendrik Osula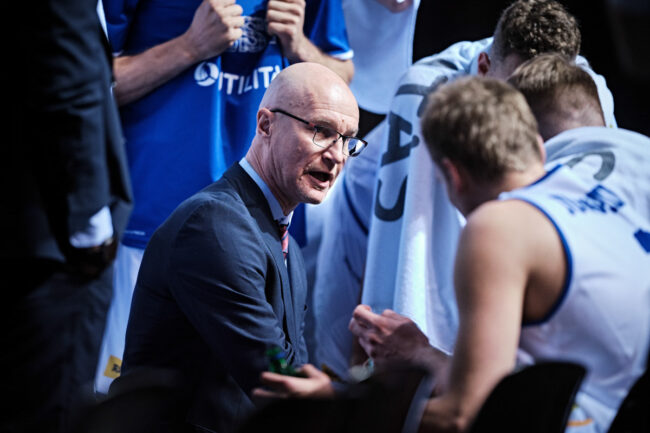 Jukka Toijala instructs the Estonian national team in a match against Israel.
"It is amazing how well the head coach of the Estonian basketball team, who has only lived in Tallinn for two years, masters the Estonian language," exclaims Kristel Kiens, a former top volleyball player and current coach for athletes.
"I completed a B2 level degree in Estonian last spring. Before that, I studied it for myself during the pandemic. There have been many benefits to the language skills. It is easier to communicate with the players in their own language, and anyway, proficiency in Estonian is a sign of commitment to my work. Foreign coaches come and go, but learning the language at least shows that I take my job seriously," Jukka Toijala explains.
Prior to his current position, Toijala worked as an assistant coach for the Finnish basketball team, and played as a professional player in both Finland and Belgium. His career as a basketball player ended at the age of 32 due to a hip injury and artificial joint surgery. Jukka Toijala has also worked as a coach in Romania and Poland, among other places.
The strategy of the Estonian Basketball Association until 2030 has been outlined. The first step in the strategy was to reach the European Championships in the first three years. With Toijala's at the helm, this goal was achieved in the first year, i.e. Estonia will play in next summer's European Championships in Milan. The group is hard: Italy, Greece, Croatia, Ukraine and England. But the Estonian team is young, the youngest in Europe.

Basketball is the number one sport in Estonia
Basketball has deep roots in Estonia. Estonia played its first tournament all the way back in 1936 at the Berlin Olympics, where they defeated France 34-29.
Speaking of the Soviet era, "At the time, the Soviet team consisted largely of players from the Baltic countries. With re-independence, basketball has become an increasingly important sport and is being closely monitored. Football is not as popular a sport, and hockey, floorball, and baseball are not nearly as popular," says Jukka Toijala.
The number of players is good. There are about 10,000 registered basketball players in Estonia.
"The groundwork has been done well here, but maybe it will take time to change the management culture. I would like all players to take part in the training at the Kalev Sports hall, as long as there is not too much partying there," he reminds.
"We train there from the beginning of June until mid-August," head coach Toijala concludes.
Jukka Toijala
Head coach of the Estonian basketball team since 2019
Age: 50 years (May 9, 1972, in Kouvola)
Lives in the Kalamaja area of ​​Tallinn
Hobbies: jogging and cycling in different parts of Tallinn
Likes: Estonian dark bread, exploring new restaurants and food experiences on weekends and café culture
Listening to the music of Ilkka Alango, who lives next door
To learn more about this and similar topicsbasketball basketball coach coach Estonian national basketball team Estonian national team European Basketball Championship head coach Jukka Toijala