I have visited Tallinn at least 200 times and never get bored
For Saila Björkman, Estonia has become a second home.
Text Petri Saraste
Photos Petri Saraste, Saila Björkman's personal album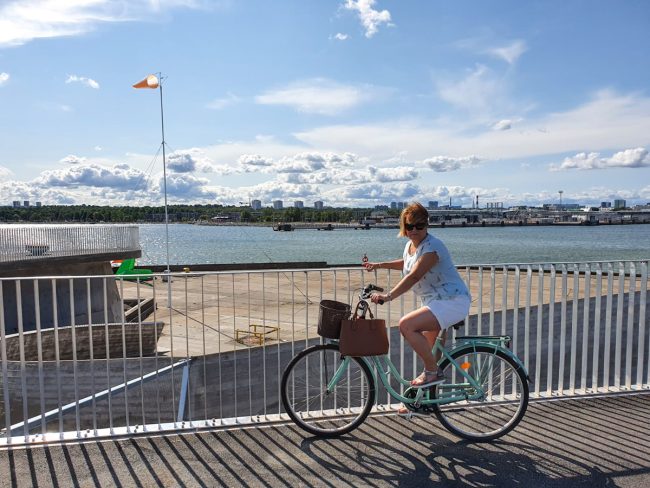 Last summer, Saila also wanted to test the new ship terminal with her bike.
The West Port of Helsinki is a familiar place for Saila Björkman. From there, she has already boarded the Tallinn ship almost twenty times this year. The different seasons, weather, storms and corona don't scare her. In the last four years, she has boarded the Tallinn ship no less than 65 times.
All in all, she has visited Tallinn at least 200 times. The staff know her both on the ships and in her favourite restaurants.
"My friends keep asking me if Tallinn isn't getting boring already. I have an answer to that, believe it or not, I always find something new and interesting there on every trip. Some people suspect that I was Estonian in my previous life, even though I'm Finnish," she says.
Saila usually goes to Estonia with friends and family, but she doesn't shy away from travelling alone either. Nowadays, she increasingly takes her bicycle. She often only takes a day trip to Tallinn and its surroundings.
"A bicycle is a really great tool. Bringing it on the ship costs only five euros each way, and it's also the fastest way to get on and off the ship. I save a lot of time and money when I leave the port immediately to pedal to the destinations I have chosen in advance. I do these trips from the beginning of May to the end of September. However, I have sometimes cycled in Estonia in October, even in the rain," she points out.
Saila recommends cycling to others as well, although she understands that many people don't want to take their own bike with them if they are going a long way from Finland.
"But, of course, you can always rent a bike," she adds. The cycle paths in Tallinn are in excellent condition and the going is smooth and there are no steep hills.
"You're abroad, but everything is so familiar," she describes.

The first trip was etched in my mind
Saila Björkman remembers that she visited Tallinn for the first time during the Soviet era in 1975. "I will never forget that trip, and the memories are not very rosy. We travelled with relatives from Kouvola by bus via Vaalimaa to Leningrad and finally by night train to Tallinn."
"I was 11 years old at the time and I was very anxious and scared. I have also always been sensitive to different smells and I still remember how everywhere smelled bad. Everything was grey and dreary. At Viru Hotel, which was completed in 1972, however, full board and better smells awaited us. Cabbage dishes were offered at every meal," she laughs. It took time before her next visit, because it happened only after Estonia's independence.

A positive feeling of envy
Saila Björkman says that very often she is overcome by some kind of positive envy in Tallinn. "The city has managed to combine centuries-old and modern architecture. Although I'm not a person in the field, I like to especially look at historical buildings, such as churches. When I was in Tallinn for a month a couple of years ago, I made it my goal to visit all the churches and museums in and around the city. In the morning, I looked on the map for a place I hadn't been to before and just wanted to go there. The goal has not yet been realised, because there are so many churches and museums."
"Sometimes I just jumped on the bus and rode into the unknown. However, I thought that I could also get back by bus," Saila laughs.
"The nature trip to Paljassaare was an unforgettable experience also because the wrongly chosen path led me astray for miles."
During her travels, Saila also takes advantage of services such as shoemakers, hairdressers and various treatments and, of course, restaurants.
"Sometimes I go to the market to buy strawberries and other seasonal products, but I don't transport them all the way to Finland," says Björkman.
Saila's Tallinn tips:
Museum of Occupations and Freedom Vabamu
The museum, located near Freedom Square, tells about the hard experiences of Estonia's recent history. "You shouldn't just go there to look around. It's an impressive place, where you realise what it was like to be sent to Siberia at night and you only have a minute to prepare."
Seaplane Harbour
The maritime museum is a place that is truly impressive. "The building is great and its exhibitions are inventive. The place is also suitable for families with children. And now it is renovated it is even more wonderful."
Paavli Kaltsukas
The extensive flea market located in Kopli is worth a visit. It can be reached by trams 1 and 2 by getting off at the Angerja stop after Baltijaam railway station. "You can make real discoveries there. You can buy clothes, shoes, books and dishes for a couple of euros. Many other flea markets have a vintage stamp on the goods, but those goods are not really vintage at all, except for their prices."
To learn more about this and similar topicsPaavli Kaltsukas Paljassaare Saila Björkman Tallinn Tallinn Bicycle Travelling to Tallinn by Bike Vabamu Viru Hotel