Eliq Maranik: Smoothie Queen's Health Kick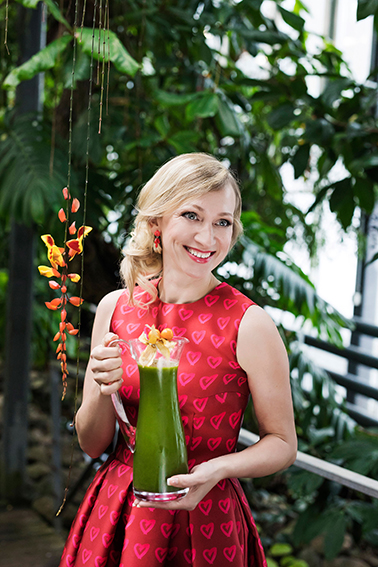 Eliq Maranik, the Estonian-born author of more than twenty books, mostly devoted to her favourite smoothies and other healthy recipes, didn't always think she'd be writing for a living. "I never chose that, it chose me I suppose! I wanted to be a singer – I've thought I would be on a stage since I was three years old. I think I'm more of a teacher. I'm still taking my singing lessons, though."
Maranik, now 36, began publishing her recipes when colleagues at a publishing company in Sweden, where she worked as a designer, remarked how much they enjoyed her lunchtime drinks, encouraging her to show them how she made them. It might have come as a surprise to her initially, but Maranik is now a woman in demand, with her books published in sixteen languages and counting, including English, Finnish, Estonian and Swedish.
The most recent release, Winter Smoothies, will be followed by Vegan Smoothies, available now in Finnish and English, and due to be released in Estonian in May as Healthy Smoothies, the name it carries in Finland and Sweden. Later in the year, fans will also be able to read Probiotic Smoothies, Maranik's guide to how to harness the power of friendly bacteria for a healthy lifestyle.
The author was keen not to be seen as a didact, preferring to let people live as they wish, and simply describing what works for her in her life. One of the things that makes her so happy is living peacefully with her three year-old daughter in her current home, Malaga. "I've been coming to Malaga for ten years more or less; I made friends here, and then I decided to have a baby, and I decided I wanted to do something in my career that meant I wasn't dependent on anybody or anything. I used to have loads of employees, but now I can take care of my soul and my spirit, and writing is perfect for that."
"I have loads of time for training, which is a big part of my life. I can't imagine my life without training. My friends say I'm not healthy, because I sometimes go to the gym for two, three or four hours. There's yoga too – my daughter loves it, we put on some calming meditation music and we can be there for hours. If you do yoga, you just don't eat bad food. It comes naturally. My body says, 'no, Eliq, because you'll have a headache later on!' If I have one glass of champagne, I know I'll have a huge hangover – I'm a cheap date! I'm a vegetarian because of my health – I realised if I ate non-vegetarian food, I got huge headaches."
"It's up to everybody to have their own lifestyle," Maranik continued, "I like my own lifestyle – it doesn't necessarily mean people can do three or four hours' training a day, but that's my life. I also like to read, but that's work, because I have to read, as a writer. I don't really read news at all, though."
It might seem from the outside like the self-styled 'Smoothie Queen' lives a life free of sinful indulgences, but some are allowed. Maranik trains hard so she can enjoy the occasional pastry treat later. "I've been a croissant-eater since I first went to Paris, and I know I can't go near fresh croissants because I'll want to take ten of them, so I know there are some addictions in my life that I need to work on. If I go to Paris, I'm going to let myself eat those ten fresh croissants. I can give this love to my body and my soul, because it's nurturing myself in some way."
Chocolate is also on the menu from time-to-time. "I haven't bought presents for the past ten years, so one Christmas I was making chocolate pralines, with natural ingredients, but of course containing sugar. I'm an artist – I like to do things with my hands – and I realised, 'I'm actually quite good at this!' I decided to write a chocolate book for that reason."
"I made a whole chocolate book, how to make rubbish-free pralines, cakes and so on, with natural ingredients, because, simply put, most of the bought stuff was full of palm oil, E-numbers, and artificial ingredients. It still wasn't a healthy book, though."
Although Maranik once worked on an Estonian television show in which obese members of the public were given diet plans and their results measured, the cook said it was always better to lose weight in a controlled way, over a lengthy period of time. "Fast weight loss is not the healthy way – it's better to change your lifestyle in the long run. There was one guy, in one week, he lost eight kilos, but that's not healthy, you lose too much energy. Generally, if you follow a healthy lifestyle, the body weight is going to work things out for itself. There are eaters out there, some people love chocolate, for example, and so for them, they can say if they want to have a piece of chocolate, they have to run for thirty minutes."
Maranik was happy to exchange opinions on the many diet options that had sprung up in recent years. Regarding the paleo diet, where all food is at the lowest possible level of manufacture, she said "it's never going to last forever." However, the key, she added, was for people to make their own choice.
With many cooks and authors also taking advantage of social media and vlogging to reach new followers, Maranik confirmed this was something she was considering. For any young person who wanted to follow in her footsteps, she had some useful tips. "We all have the power within ourselves, we just need to believe in ourselves. Today it's all about social media, and letting the true 'you' shine through. Believe in your own special powers, because we all have them, and don't give a shit what people think of you!"
TEXT SRUART GARLICK, PHOTOS KRÕÕT TARKMEEL
To learn more about this and similar topics