Stylist Ženja Fokin on having his dream job – "I create stories with clothes"
Text Susanna Poikela
Photos Shmu Photo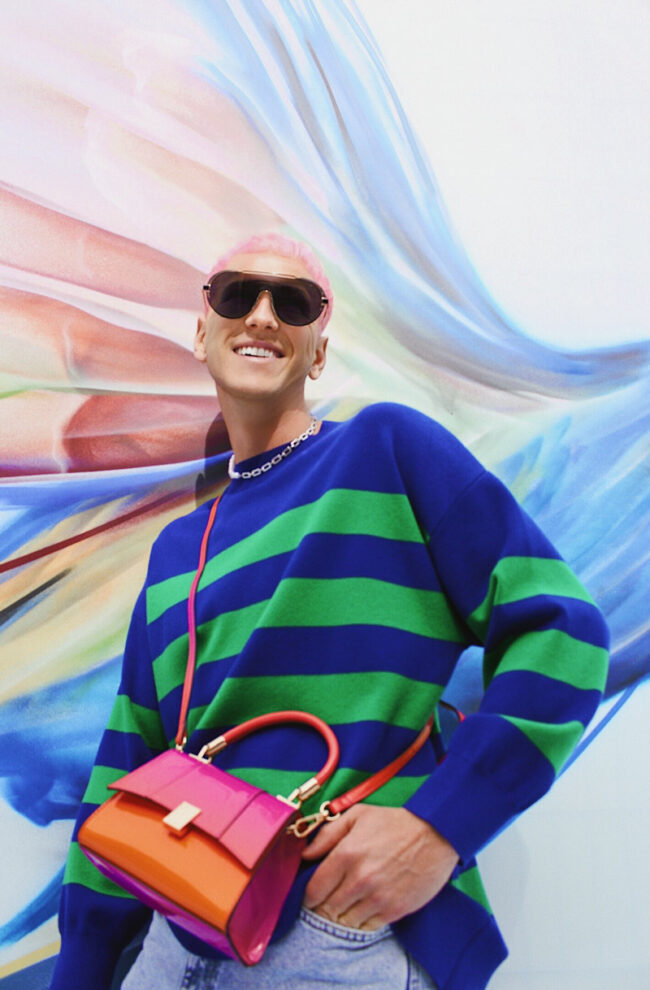 In fact, I sometimes feel like I'm primarily a psychologist and only then a stylist. Expressive clothing and personal style strengthen self-confidence.
The Baltic Guide: What gave you a boost towards the fashion world?
Ženja Fokin: My journey into the world of fashion started out of pure coincidence. Everyone knows that feeling when they realize they've found their own thing. It is a real joy! I enjoy it with all my heart to help people. I create a story for their image, I make them feel like a Parisian without Paris. This is a personal "shopping" mission.
Could you describe your mission more? What does that mean in practice?
My job is to open my client's eyes and offer solutions so that they can see themselves in a whole new way. For example, what colours, clothing cuts or styles are perfect for someone. Often a person is the most severe critic of themself. This work requires an inspiring attitude, a lot of praise and encouragement.
What especially interests you in the fashion world?
A decade ago, I was interested in what's coming next to stores or what the next fashion trend will be, now this era has come to an end. It originated as a growing awareness of global warming. It was followed by the pandemic and finally by the war in Ukraine. These events changed my perspective on fashion. The old worldview began to falter.

How do you notice this in human behaviour?
Now we are starting to ask if there is a need for all the new stuff, making less emotional purchases and choosing more carefully what to buy. In addition, more effort is being made to choose timeless and high-quality clothing. That can then be associated with something personal that describes us as individuals. We want the clothes and accessories to tell a story.
So you think old clothes can be recycled?
The new era is well illustrated by the fact that people now dare to go to parties in used clothes. In the past, people did not dare to wear the same outfit that appeared in some previous event. This way of thinking is gone! The pace of life has accelerated so much that people don't remember what you had on three days ago when you ate lunch. Take it easy. Wear your favourite clothes and pieces!
How do you see this summer's fashion?
In the midst of the horrors of the Ukrainian war, fashion is moving towards the 60s and the era of pacifism. There is a strong ethnic approach, linen, fluidity, embroidery, joy in fashion, a bit like being in an art exhibition. All fashion houses have taken themselves from "masquerades" to a more relaxed "comfort" course. The loungewear style has found its way into the selections of every clothing brand, including luxury brands that previously focused only on the design of luxury party dresses.

Genius Dressing Tips:
Brighten up your outfit with accessories. For example, add some fun and pleasing detail to the whole ensemble, be it a handbag, glasses or some other accessory.
Try and combine. When trying on a garment, think about which other three accessories you can pair it with. Only buy something that makes you feel like you can't wait to put it on. Otherwise, it will just hang in your wardrobe.
Estonian clothing stores recommended by Ženja:
BASAAR

store on the 2nd floor of the Baltic Station.
Vintage area on the 2nd floor of the Baltic Station.

Mora

clothing store in the Nautica shopping center.

Maximalist

, Pärnu mnt 8, Tallinn.

Estonian Design House

in the Solaris Center.
To learn more about this and similar topicsBASAAR Fashion Fashion Tips Fokin Maximalist Mora Ženja Fokin