The Master and the Apprenctice
Is experience and youth the next F1 success story? Estonia expects a historic breakthrough in the royal class of racing cars.
Text by Petri Saraste
Photos Red Bull Team / Mika Salo and Jüri Vips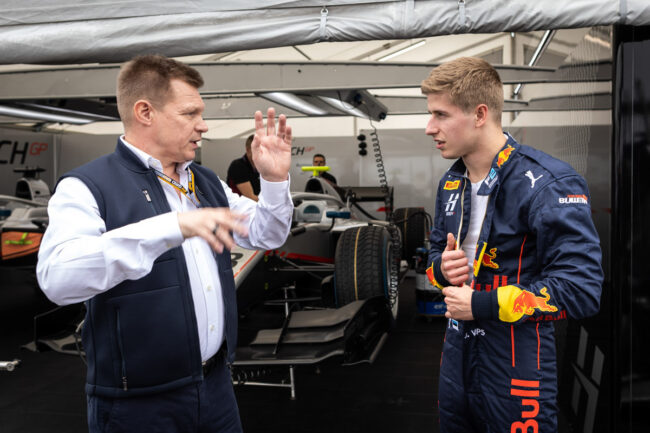 Mika Salo and Jüri Vips could be a father and a son. Mika is a familiar man in the depots, and despite his young age, Jüri has already achieved a lot, and he still has plenty of ambition and patience.
Two F1 drivers drive around the Imola depot in Bologna. Mika is known to everyone in the formula circles. Jüri is a little more unknown, except in his native Estonia, where he is eagerly awaited as the country's future F1 star.
Jüri Vips and Mika Salo have known each other for more than four years. Mika is 55 years old, and Jüri is 21. Jüri hadn't even been born when Mika participated in the Japanese GP as a Lotus driver in 1994. Mika Salo also drove his last race in Japan in 2002, when Jüri was only two years old.
Mika noticed the young man's ability while serving as a judge in the F3 class, "Jüri was fast, but when he didn't have the right support as a young Estonian driver, I decided to help the young man," Salo recalls the beginning of the friendship.
"I'm not his manager, but we're united by many things, like the Red Bull Racing team. I have opened some doors for him." Jüri's manager is Marko Asmer from Estonia, who is also a former racing driver – the first Estonian at the wheel of an F1 car as a test driver in 2003.
In his career that lasted almost ten years, Mika Salo managed to compete in a total of 111 F1 races and served on the FIS jury for a long time after that.
Jüri Vips' career began in 2011 as a karting driver, as it did for so many other current Formula 1 drivers. In 2018, he was inducted into Red Bull's Young Drivers Program. In 2021, Vips won two F2 races and finished on the podium six times. This season, he will still compete in the F2 series, but will also be a test and deputy driver in F1. Today, Vips still drives a lot on a simulator and tours around the race tracks with the Red Bull team.
Is it possible to enter F1 without a big money bag?
"Yes, it is possible if you are talented enough. It is difficult to find sponsors in Estonia as well as in Finland. However, a lot of patience and practice is needed, as well as successful Friday practice runs. The game is pretty hard. Red Bull will quickly drop out if it doesn't succeed. Yes, the feedback comes immediately and directly, " says Mika Salo.
"Yes, I have noticed that Helmut (director of youth development projects, Helmut Marko from Austria) likes Jüri."

Jüri Vips' success in his career so far:
2013 Estonian Karting Junior Championship
2016-2017 Italian F4 Championship
2017–2018 FIA F3 European Championship
2019 FIA F3 Championship
2019 Super Formula Championship
2020 FIA F2 Championship
2021 FIA F2 Championship

The pressure must be withstood
The Baltic Guide: You've already progressed quickly to the F1 team as the third driver, like so many other current F1 stars. How close are you to an actual F1 contract?
Jüri Vips: "Pretty close, but this season has to go very well, and it's not easy in the F2 class either, because it's also very hard."
What does it take to progress to F1?
"In my case, you have to succeed in the F2 class and maybe win it. But there are other factors that I cannot influence myself. So winning alone is not enough."
You are only 21 years old now. How did your career in Estonia start?
"When I was just nine years old, my brother took me to a karting track, and it all started. I drove more and more karts and won my first Estonian championship when I was 11 years old."
What is the highlight of your career so far?
"Maybe that's when I became a member of the Red Bull Academy. It really helped me move forward."
What kind of pressure do formula drivers live in? You said in an interview that former racing driver and current Red Bull Racing Team advisor Helmut Marko, who is also responsible for young driver development projects, puts young drivers under strong mental pressure, especially in the beginning?
"Yes, the pressure is tough, but it's also tough in F1, and what he's doing is right, because he wants to make sure drivers who get into F1 can manage the pressure."
What factors make a good team? Does the interest of the team always take precedence over the interest of the individual?
"Many factors. At the F2 level, the technology is already top notch, and the level is high anyway. All the pieces must snap into place. Mechanics and engineers need to work seamlessly together, and the team needs to be top notch. There are a lot of components that need to fit together."
Who is your personal favourite in F1 history?
"I don't have any special number one favourites, but I respect many past and present drivers like Senna, Schumacher, Verstappen and all those I can learn from."
Estonia is a small country. Is it harder for someone from a small country to get into F1?
"Yes, it is because it is more difficult to get sponsors, for example. And F1 is also a piece of a bigger whole. For example, it is easier to advertise different products in large countries when there is a large selection. But it's still not impossible, or so I hope."
How much time do you get to spend in Estonia?
"Unfortunately I don't spend very much time in Estonia these days because I live in the UK where a lot of development work is being done for the team and the factories are there, but I try to visit my family every couple of months. "

Re-independence also paved the way for motorsport
Estonia's road to the top of motorsport began in the late 1990s, when rally driver Marko Märtin began to achieve success. He raced until 2005 and collected five wins with the Ford and Peugeot teams. His best overall finish was third in the WCR.
After his racing career, he started coaching current champion Ott Tänak, who won the world championship for the first time in 2019. Tänak's success has caused a real rally fever in Estonia. Everything he does and says is followed more closely than any other athlete.
Next, one can start to expect success in Formula 1 as well. Marko Asmer opened this path and was also the first to get behind the wheel of an F1 car. He competed mainly in the F3 class, but in his career never got any further than a test driver in the F1 class. Now the eyes of the country are on the young Jüri Vips.
To learn more about this and similar topicsF1 F2 Jüri Vips Marko Asmer Marko Märtin Mika Salo Ott Tänak Red Bull