Design is everywhere!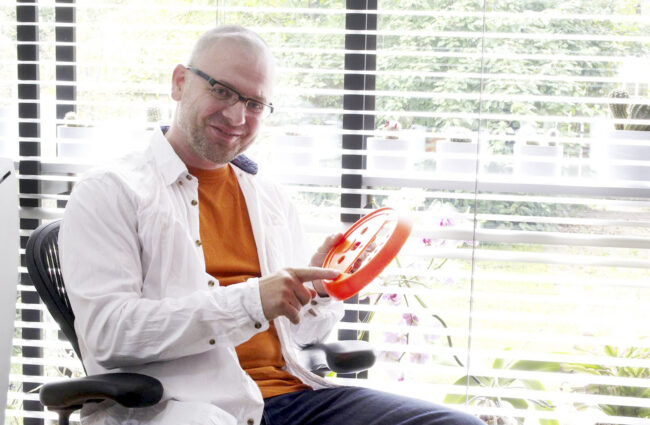 Design is everywhere!
Tiit Liiv (49) at Artec Industrial OÜ is a successful industrial designer who influences our surroundings and everyday life. Tiit is a graduate from ERKI/ The Estonian Academy of Arts and has specialised in industrial design with an emphasis in electronics and medical appliances.
In which design category would you place Estonia?
Although we talk about design in very general terms I would bring up two fields where we are strong: so called unique design, such as furniture or exhibitions and industrial design in its classical meaning.
Can you give some examples?
You can find Estonian design in large and small industry such as sports clothing, textiles, and electronics. The more Estonian industry is exposed to international competition, the more possibilities are given to our industrial designers.
Where do the ideas and inspiration come from?
The ideas and impulses are primarily derived from interesting and complex projects as well as from the ever-increasing technical possibilities, not least of which are computer based.
What is the impact of a strong design country like neighbouring Finland?
I'm sure that Estonian design has been influenced by classical Finnish industrial design that is highly appreciated globally. It is functional and minimalist. Many of our designers have been educated in Finland or they have been working there. I was working with one of the leading design companies in Finland for years. This was an important complement to my formal Estonia design education.
Helsinki has been named the World Design Capital in 2012. Does this have an impact on Estonia?
No doubt it will influence us, not least of which because the year also enables Estonian designers to expose themselves through an Estonian design exhibition in Suvilahti in Helsinki.
What is most important to you as an industrial designer?
For me it is important to make use of available technologies and efficient cooperation with industrial partners especially from R&D departments. At the same time designers often approach things from an unexpected angle with regard to contemporary and novel technologies.
How do you judge Estonian design education?
Professional design education in Estonia goes back to the mid 1960s, which gives a strong foundation. In addition to this, cooperation with universities within the product development sector is on the rise. Thus I'm optimistic.
TEXT: TOOMAS KÄBIN, PHOTOS: TIIT LIIV
To learn more about this and similar topics