New Technique in Facial Care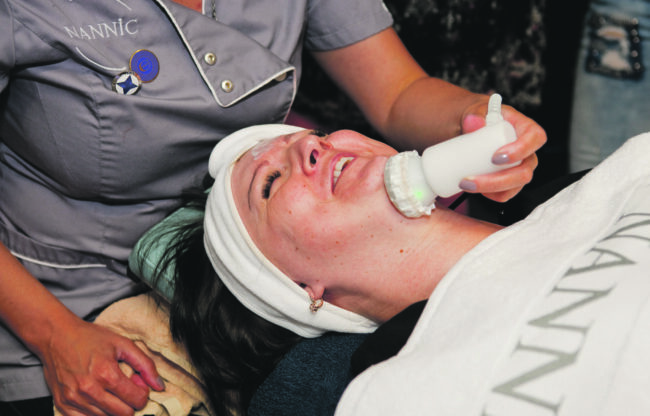 The Belgian brand NANNIC NBE is a radio frequency treatment that shows remarkable results, even after just one procedure.
The Baltic Guide's secretary Janika went to try this new procedure and these were her thoughts:
"First, my face and neck were washed and exfoliated with an enzyme exfoliator, which works without the granular particles of a typical exfoliator. You can use this exfoliator at home too, leaving it on for about 15 minutes.
A lamellar serum was applied and the procedure began from the left hand side of the face for lymphatic circulation. The round end made the skin warm and a little red. The procedure lasted on each side of the face for 15 minutes. Afterwards, her skin was firmer and smoother.
Afterwards, an Alginate mask  was applied for 10-15 minutes. It can also be applied to the eyelids and lips, if needed. The mask was removed like peeling back a rubber mask. The treatment finished with a cream.
The result: skin was noticeably softer and firmer. You shouldn't wash your face or apply any creams until the following morning.
Even with the first treatment, you can definitely see results, though for the best results, 5-10 visits are recommended.
The regular price of the treatment is €80. You can try it at a special introductory rate at Kochi Iluait for €50.
Location
Kochi Iluait, Lootsi 10, 2nd floor, SuperAlko door, Tallinn
cosmoprof.ee

TEXT MIKKO SAVIKKO, PHOTOS ANDREI CHERTKOV AND NANNIC COSMETIC
To learn more about this and similar topics