The newest spa in Tallinn
Text Susanna Poikela
Photos Ring Spaa & Saunad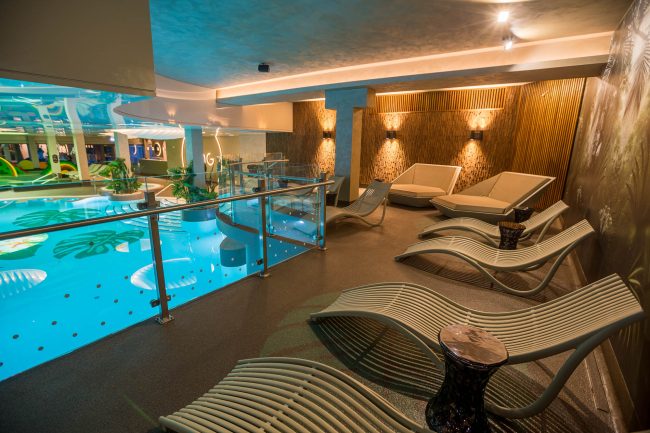 Rest areas are placed in different parts of the spa.
Sauna users get multicultural sauna experiences
Tallinn's newest spa, Ring Spaa & Saunad (Ring Spa and Saunas in English), is located just eight kilometres from the city centre.
The sauna centre has 10 different saunas and pools for every taste. You can try, for example, a juniper sauna, a gentle salt-steam sauna, a relaxing Turkish "hamam", a hot and humid Russian sauna as well as a traditional Estonian smoke sauna.
There is also a wood-heated sauna outside, which awaits visitors on Monday and Wednesday evenings from six to ten o'clock. You can also buy sauna whisks (bunches of branches used to hit yourself and others) from the cafe of the sauna centre. After the sauna, you can take a dip in the adjacent cold pool. If you are not a fan of the cold, there is also a warm Japanese pool.

In the spa, you can organise parties and participate in sauna rituals
Ring sauna centre organises popular sauna rituals on Tuesdays, Thursdays, Fridays and at the weekends, which you can participate in for free. Among them are the aroma ritual, the salt ritual and the bath ritual.
Children have by no means been forgotten either. They have their own children's pool area with slides and play areas.
The pool area also has a bright party room that can be reserved for private use. A dozen people can fit around the party table. From the party space, there is a view of both the spa and outside. Wide and soft lounge chairs attract spa guests to relax in between taking saunas and swimming in the pools. If you're hungry, tasty pizzas are prepared in the spa's cafe. The menu is versatile and the selection of pizzas is comprehensive. The café also offers an affordable lunch every day. The weekly updated lunch menu can also be found on the Facebook page of Ring Spaa & Saunad.
On the top floor of the Ring sauna centre, there is a separate 18+ space that can be booked for private events. The premises has a comfortable lounge, a spacious sauna with a glass wall that can accommodate ten sauna users at once, a jacuzzi and plenty of private party space.
Ring Spaa & Saunad,
Õismäe tee 130, Tallinn.
To learn more about this and similar topicsPool Ring Spaa & Saunad Ring Spa Tallinn Sauna Spa Spa Centre Tallinn Spa Tallinn Tallinn