A salt room for children
Text Susanna Poikela 
Photos Halos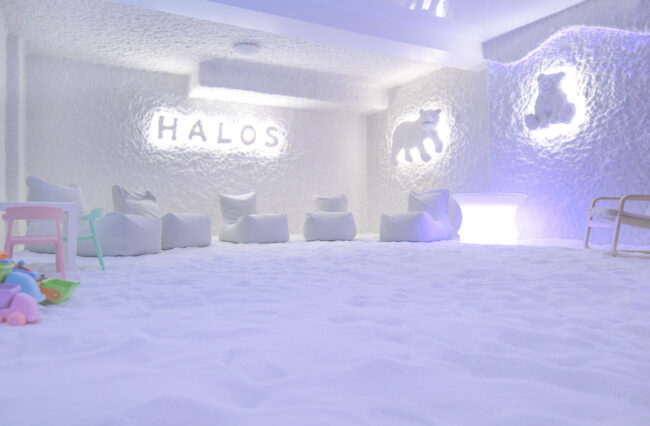 Both children and adults are welcome in the Halos salt room.
Salt is one of the oldest natural medicinal substances. It can be used to cleanse the body and strengthen the immune system against seasonal diseases.
A new salt room has opened in the centre of Tallinn, with one little twist. The salt room at Halos has been built with children in mind. Kids can find it boring to sit for half an hour in a room where there is nothing to play with. That is why the salt room at Halos is full of toys, including a cute playhouse built from salt blocks. They can play safely with the rock salt covering the floor of the room too. The lighting is also subdued and calming.
No phones are allowed in the salt room. This guarantees a calm and unhurried atmosphere, 25 minutes can really fly by while playing with your child.

"You don't have to be a child to come and enjoy the healing effect of our salt room. We also have a lot of adult customers. We can serve our international customers in English. A visit only costs eight euros," explains Kairi Org, one of the two owners of Halos.
Why is salt therapy needed? Salt rooms are suitable for people who suffer from, for example, a runny nose, congestion, asthma, allergies or a weak immune system. The fine salt floating in the air is also good for the skin, especially for those suffering from acne, atopic skin or psoriasis. You can feel the cleansing and refreshing effect from the first visit. When you leave the salt room, you feel as if you have enjoyed a fresh walk by the sea. "Once is fine, but we recommend visiting the salt room regularly so that the results are more permanent," advises Kairi Org.
Halos Children's Wellness and Salt Centre, Liivalaia 40, Tallinn.
To learn more about this and similar topicsAllergies Asthma Benefits of Salt Rooms Children's Playroom Tallinn Children's Wellness Centre Halos Salt Room Wellness Centre Tallinn