Kriss Soonik Käärmann: An Elegant Twist at Tallinn Fashion Week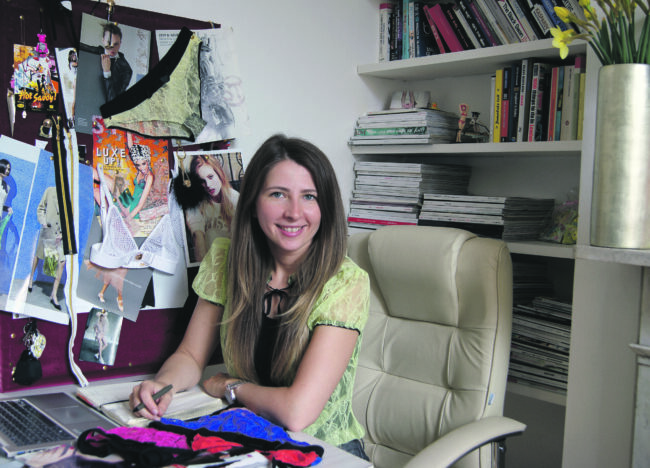 SONY DSC
Kriss Soonik Käärmann is a great example of a successful Estonian entrepreneur, having taken her unique twist on underwear-as-outerwear, something which her label calls 'loungerie', and made it an international phenomenon. Soonik-Käärmann, who is married to Transferwise founder Kristo Käärmann, moved to London in 2005 to study for a Masters degree at the London College of Fashion. Since then, she has made regular trips back to Tallinn, taking part in several iterations of Tallinn Fashion Week.
Soonik-Käärmann's collections won her the Silver Needle, an award given to young or up-and-coming designers, in 2013, and then the Golden Needle in 2014, a rubber-stamping of the enormous influence she has had on Estonian fashion, and on designers who wish to craft an international profile for their work. You can view her latest sassy, provocative Kriss Soonik Loungerie collection on the catwalk at Tallinn Fashion Week 2016, in the first standalone show for the brand at Estonian fashion design's blue-riband event.
Soonik Käärmann spoke to the Baltic Guide about why she was returning to Tallinn Fashion Week. "I had this idea of doing a show at the end of the year, and then when Tallinn Fashion Week contacted me and said, 'we have this tenth-anniversary celebration,' I thought it would be a great opportunity."
Past spectators at Kriss Soonik Loungerie shows have never known what to expect in terms of presentation. "I think we've been known for our quirky shows before now. We sent an army of characters from Snow White to the catwalk one year, then another year we sent out gorgeous bunny-boys. This year it's our autumn-winter 2016 collection, and it'll be mixed in with our spring-summer collection. People can expect shiny glitter and a mermaid theme too."
This brought up the topic of just how practical lingerie can be in a winter as harsh as that experienced in Estonia or Finland. "If you look at our turtle-neck tops with suspenders, that's very Nordic! It's true that the Nordic climate wants you to make coats and things you can wrap up in, but I'm a lingerie designer, and as a lingerie designer, we have a lot of things that cover a lot. For many lingerie companies, you think of things that are very tiny, but for us, it's a lot about bodysuits and tops, for example."
"You mention the underwear-as-outerwear thing: it's a trend that shows no signs of going away. We were one of the first lingerie brands to start pushing the trend; usually it's fashion brands that do it. We're trying to cross to the fashion side, we don't want to just be perceived as a lingerie brand."
Trying to make it big in London's fashion scene is sometimes characterised as swimming with sharks; even the sharpest of entrepreneurial spirits can be crushed in such intense competition. Soonik Käärmann, though, sees this competitive atmosphere as an advantage. "I think that is a great driver. It can be so easy to become 'someone' in Estonia, but to keep on pushing yourself, it's great to be among such competition in London. The UK is one of our toughest markets – our main market right now is Japan, but I don't think we would have found Japan so easily if we hadn't been in London; it can be quite hard to get out from Estonia."
Something about Kriss Soonik Loungerie's products seems to appeal to Japanese people as soon as they see it. "I've always gathered inspiration from Japanese comics and Manga – I always knew aspects of our aesthetic would appeal to them, and of course they really get the 'underwear as outerwear' trend. It wasn't my first target, I was quite cautious when first approaching them, so when I met my agent in New York, I worked out a way to go into the market there. There are also very interesting things happening in places like Bangkok, for example, so there are a lot of places in Asia that have a very interesting design scene."
Does Soonik Käärmann consider it a patriotic requirement to come back to Estonia and show the new collection, or is there something more to her decision to return? "I think patriotism has a big role there, but we do have a lot of customers in Estonia, too, so I think it's kind of my duty to do these shows in Estonia every now and then, and meet people afterwards, and we get a lot of visual material from there; we do the catwalk, we put stuff on Instagram, it's very easy to do stuff globally from Estonia. It's not just a local thing, as we see it. It's great to still be connected to Estonia. We manufacture all our things there. People like the fact that there's things happening internationally for us, but I think it's very important for us to show our stuff there."
Kriss Soonik Loungerie can be purchased online at kriss-soonik.com, in Ulatas Kaunitar (Pärnu Mnt 36, Tallinn), or in the concession based in Tallinn's Kaubamaja department store. 
Click on the address to see the location.
TEXT STUART GARLICK, PHOTOS SANDRA PALM
To learn more about this and similar topics