Fotografiska's new exhibition challenges the deceptive promises of consumer culture
Text Timo Huttunen
Photos © Miles Aldridge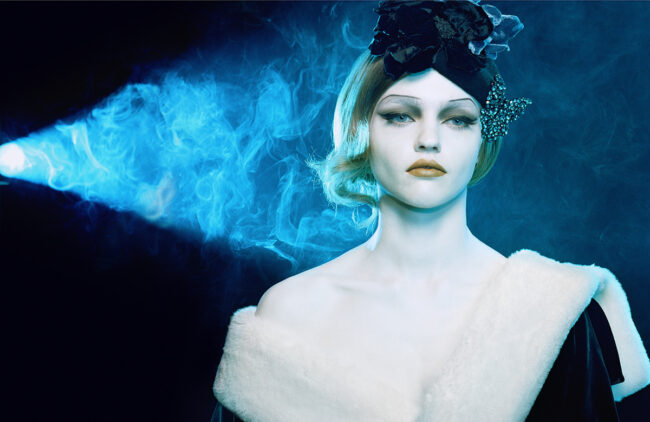 © Miles Aldridge - L'Ange Noir #2, 2005
On April 22, Fotografiska opened a new photo exhibition by Miles Aldridge, "Virgin Mary. Supermarkets. Popcorn. Pictures from 1999-2020". This is a comprehensive retrospective of the photographer, who is known for his eye-catching stylised photographs. His works contain subtle references to film noir, art history and pop culture.
A recurring theme in Aldridge's work is the deceptive expectations and promises of a world based on consumer culture. The home environments in the images often seem emphatically bittersweet, reflecting Aldridge's personal childhood memories of his mother after a devastating divorce. Only rarely does the artist allow the real world to penetrate the imaginary – through his lens even reality looks artificial.
Fotografiska Tallinn's exhibition manager Maarja Loorents says that Miles Aldridge's retrospective, selected as this summer's major exhibition, brings the viewer not only the glamour of Hollywood but also the Photographer's deep interest in Italian classical painting.
"Miles' work is much more profound and multifaceted than it might seem at first glance. As an avid admirer of classical painting, Miles Aldridge finds inexhaustible inspiration from it. In his pictures you can find references and parallels to the art of Michelangelo, Caravaggio and other world-class classics, this is especially evident in his "Virgin Mary" series in works where hyper-realistic, picture-perfect women are surrounded by various religious symbols," Loorents said.
Aldridge believes that "fiction and theater can be even closer to the truth than documenting reality" and creates cinematic images that are extremely precisely composed and seem like stills cut from a longer story.


Born in London in 1964 as the son of the famous artist and illustrator Alan Aldridge, Miles' interest in photography began at an early age when his father gave him a Nikon F camera. After studying graphic design, Aldridge worked for a while as an illustrator and music video director.
He has had a long-term collaboration with Franca Sozzani, the legendary editor-in-chief of Italian Vogue.
The exhibition features more than 50 works filmed on analog film, featuring world-famous celebrities such as Sophie Turner, Viola Davis, Michael Fassbender and Donatella Versace.
A significant number of Aldridge's portraits are in the collections of the National Portrait Gallery, London, and his work is exhibited in renowned museums and collections around the world, including: the Victoria and Albert Museum and British Museum in London; Fondation Carmignac and Palais Galliera in Paris; Davis Museum at Wellesley College in Massachusetts; and the International Center of Photography in New York.
To learn more about this and similar topicscamera Film Fotografiska Miles Aldridge Photo Exhibition Photograph Photography Portrait