The Middle Ages will come to life in Tallinn this weekend
Text Susanna Poikela
Photo Raul Valgiste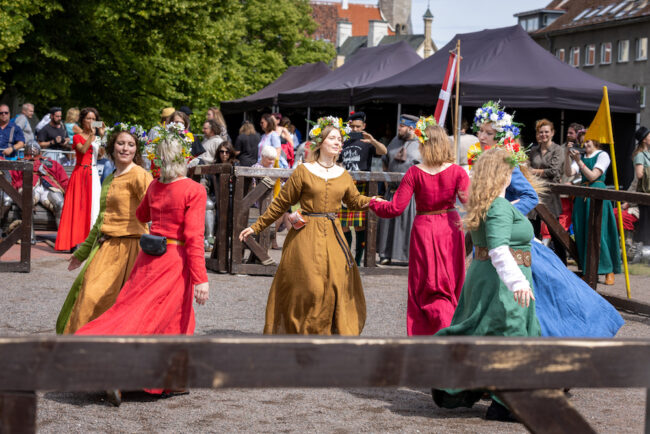 Paikan päällä voi nauttia keskiaikaisesta musiikista ja tansseista.
From this Thursday (July 6) until Sunday, there is a unique opportunity to experience the atmosphere of a medieval city. This year, Tallinn's Medieval Days will spread from Tallinn's Town Hall Square, along Harju Tanav, and around Niguliste Church.
In Town Hall Square and along Harju Tänav, artisans and merchants will present and sell their wears. A medieval village with many different workshops will be located on the hill beside Niguliste Church. There will be, for example, a blacksmith and a rope master, who will teach their traditional skills to those who are interested.
Just like back in the Hanseatic League times, Medieval Days will be international. In addition to Estonian craftsmen and traders, participants will come from Hungary, Latvia, Lithuania as well as other countries.
"Saturday should not be missed under any circumstances, because knights from all over Europe will compete in a tournament next to Niguliste church," advises Liina Veskimägi-Illiste from the Estonian Folk Art and Craft Union.
Three lectures in different languages will also take place at the Kateriina Guild. There you will be able to learn about the making of medieval headdresses and handicrafts made of leather under the guidance of the guild's artists.
"Enjoy the atmosphere of the Middle Ages, music and dance, follow exciting tournaments, participate in workshops, and when the evening comes, Olde Hansa serves delicious medieval food," adds Veskimägi-Illiste.
The full program of Medieval Days can be found on the official event website here.
To learn more about this and similar topicsKateriina Guild Medieval Days Middle Ages Niguliste Church Olde Hansa Tallinn Tallinn Old Town Town Hall Square