The corona pandemic had little effect on Estonia's blossoming craft beer scene
Text Mark Taylor
Photos Margus Johanson, Kreet Solnask, Andrei Chertkov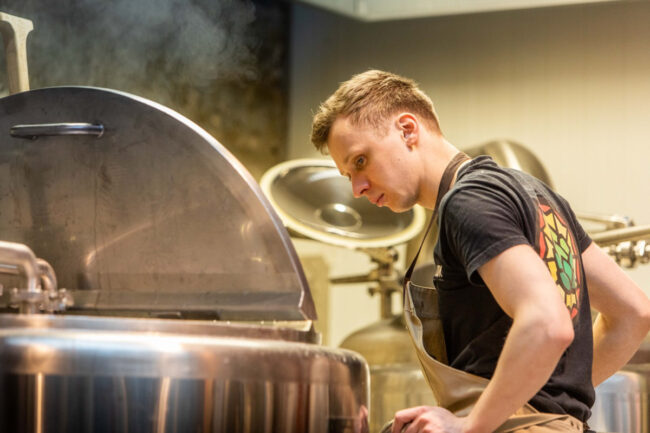 Jaan-Kristjan Unt, brewmaster at Humalakoda.
For any fan of craft beer, one of the best things about travelling somewhere new is getting your hands and taste buds around some of the local brews. But before any trip, there are always a couple of questions. Will there be much on offer? And, more importantly, will it be any good?
Thankfully for you, Estonia has a young and thriving craft beer scene with an abundance of choices, from gyspy brewers, to beer houses, and full-fledged breweries with tap rooms…

Gypsy Brewing – Kalamaja Pruulikoda
For anyone new to the craft beer world, the term gypsy brewery might be new to you. Gypsy brewers are simply beer makers who hire the facilities of a brewery to go and make their beers. For brewmasters Silver and Tanel of Kalamaja Pruulikoda their passion for beer has turned from friends knocking on their door asking them to make more homebrew, into one of Estonia's oldest and most loved gypsy breweries. Their current beers include Retro Olu and Desperado, both of which have eye-catching labelling – but for opposite reasons.
I think small breweries are keeping the homebrewer's attitude and brewing great (and crazy) beers that bigger breweries do not risk to make, as they must please more people," explains Silver Solnask, brewmaster at Kalamaja Pruulikoda.
"At the beginning of the pandemic, everyone was kind of uncertain what was going to happen, and breweries did very few brews. But soon they realised that in the summer people still wanted to drink great beer, and then everyone started to brew to fill the shortage, also the restrictions in the summer were not so strict," Silver recalls.
The brewery does not usually take part in competitions. However, "we have participated in one and got a silver medal at the Eesti Joogi Festival (Estonian Drink Festival) with our saison "Miss Haizon", which is brewed with coriander seeds, orange peel and ginger," he reveals.
To get your hands on Kalamaja Brewery beers, head to Sip beer shop in Telliskivi, where you will also find a wide range of beers from other gypsy brewers in Estonia.

Craft Beer Breweries – Pohjala
At the other end of the spectrum is Estonia's largest and internationally most recognised craft beer brewery – Pohjala. And with this size comes a few benefits. Not only do they offer a larger range of core and special beers. They have an extremely popular tap room where you can try these beers along with tasty texas bbq inspired food. They also offer brewery tours, a sauna you can hire, and a shop. Unlike other craft beers made in Estonia, if you really hunt around, you may be able to find a shop stocking Pohjala back home.
Other similar breweries worth checking out include Sori Brewing Company and Kolk.
Beer Houses – Humalakoda
Beer Houses provide a kind of dream scenario for many beer lovers. Handcrafted beers made on-site that you can enjoy in a comfortable pub environment. Humalakoda in Tallinn's trendy Telliskivi area is a great example of a beer house done well. This passion project from the owners of Hell Hunt (one of Tallinn's most popular and iconic pubs) allows you to see right into both the kitchen and the brewery. They produce a handful of different beers on site, and if you are there at 6 pm on Wednesdays, brewmaster Jaan will show you around the brewery and answer all your questions free of charge.
Other similar beer houses in Tallinn worth your time include Kochi Aidad and the aptly named Beer House (in Tallinn's old town).
To learn more about this and similar topicsBeer House Craft Beer Craft Beer Estonia Gypsy Brewery Handcrafted Beer Humalakoda Kalamaja Pruulikoda Pohjala