Tallinn's Ülemiste City moves away from single-use packaging
Text Mark Taylor
Photos Ringo Eco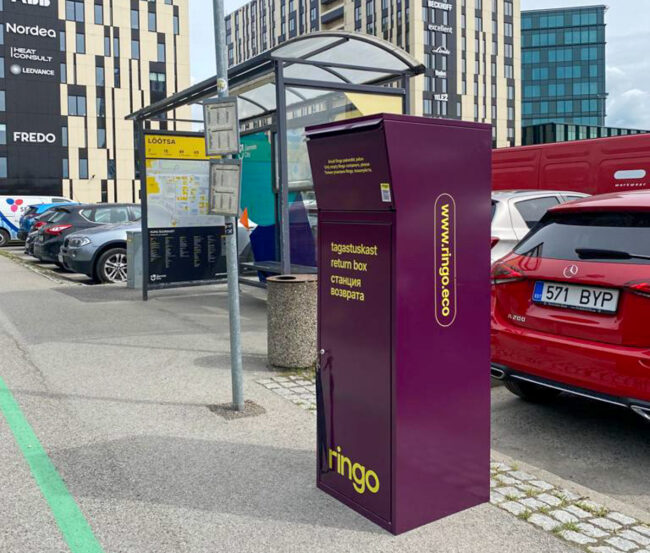 The business district, Ülemiste City in Tallinn, has begun a partnership with the company Ringo Eco to reduce the amount of packaging waste generated from takeaway food. The partnership will see single-use plastics in cafes, restaurants and office spaces replaced by reusable packaging that can be deposited in containers all around Ülemiste City.
In total, more than 30 return containers will be installed in Ülemiste City: in parks, parking lots, building lobbies, as well as nearby cafes and restaurants. By autumn, it is also planned to launch a simple and easy-to-understand model of cooperation with offices, which will allow all employees in the district to abandon single-use packaging.
"Our business town of over 13,000 people is the size of a small Estonian town, and any changes need to be planned considering that size. We want to offer residents the opportunity to make more informed choices to reduce their environmental impact. We intend to prevent the use of up to 200,000 units of single-use packaging per year," said Mati Fjodorov from Ülemiste City.
Ringo Eco offers a reusable packaging service to restaurants, retail chains, food manufacturers and event organizers. Today, Ringo Eco services are used by 70 restaurants and cafes in Estonia. At least 90% of single-use packaging has been replaced at PokeBowl in Ülemiste Center, in all Tokumaru restaurants, as well as in Idu Restaurant and Siiam Tai.
"Across Estonia, reusable packaging is being tested by businesses very actively. We always say that the real leaders of the packaging revolution in society are those who refuse single-use packaging," explained Janek Balõnski, CEO of Ringo Eco.


To learn more about this and similar topicsJanek Balõnski Mati Fjodorov Packaging Waste Reuseable Packaging Ringo Eco Tallinn Ülemiste City