Tallinn Poetry Trail launched 
Text Mark Taylor
Photo Susanna Poikela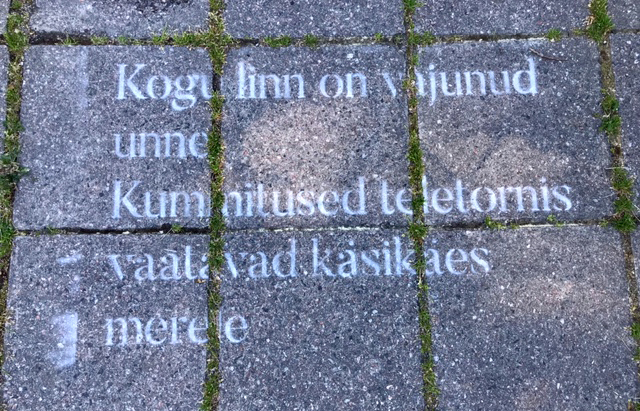 A poetry trail portraying lines from 30 Estonian poems has been launched in Tallinn. The texts, which can be found in all districts of the capital, make up a cultural tour of the city.
Tallinn Poetry Trail has been compiled by young poets Elisabeth Heinsalu and Reijo Roos in cooperation with the city of Tallinn.
"The lines of poetry relate to specially chosen locations, and among the authors, in addition to many new creators, there are also familiar names from Maarja Kangro to Tõnu Õnnepalu," Roos explained.
One such line of poetry from Tõnu Õnnepalu, can be found outside the city's tallest building, Oleviste Church, that reads, "And even higher is the light / and the churches stretch their crosses / so that the light kisses them."
"There is room in Tallinn for both larger and smaller street art projects, and any such venture that brings "colour" to urban space is worth doing," stated Deputy Mayor of Tallinn Kaarel Oja.
It is worth bearing in mind that all texts are in Estonian.
An online Poetry Trail Map containing all the locations and poem texts can be found here.
Source ERR
To learn more about this and similar topicsElisabeth Heinsalu Kaarel Oja Poetry Poetry Trail Reijo Roos Tallinn Tallinn Poetry Trail Tõnu Õnnepalu