KUMU – The Art Museum of Estonia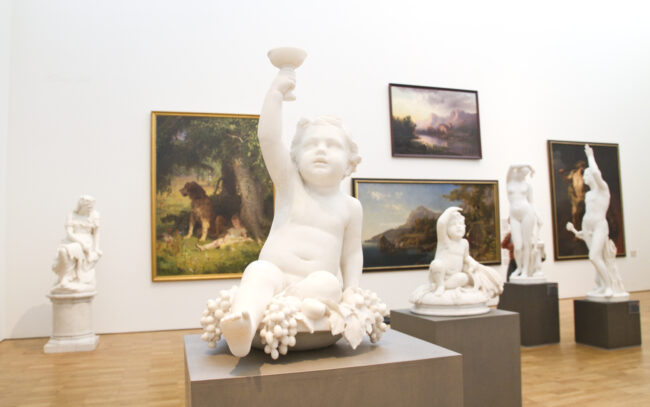 KUMU, art, museum, events, kadriorg, exhibit, tallinn, estonian art
DECEMBER EVENTS:
Dec 5, 19.00 Christmas Jazz, The Jacob Karlzon Trio.
Dec 6, 19.00 Sofi and the Magic Bird, fairy-tale dance performance.
Dec 9, 19.00 Christmas Jazz, Tigran Hamasyan.
Dec 12, 19.00 and Dec 14, 20.00 Experimental Concert Performance: Diva
Dec 18, 18.00 'Telling the American Story': Let's Talk About Music
OTHER EXHIBITS:
Archaeology and the Future of Estonian Art Scenes
19.10.2012–30.12.2012 5th floor, Gallery of Contemporary Art
Geometrical Man
14.9.12–20.1.13 Kumu Art Museum
IRWIN. Construction of the Context 24.10.12–10.2.13 Kumu Art Museum
Avo Keerend and Evi Tihemets. Colour in Estonian Graphic Art 10.11.12–17.3.13 Adamson-Eric Museum
Mare Vint. Drawings Through Five Decades 8.12.12–5.5.13 Mikkel Museum
A Collector's Passion. Silver and Prints from the Reinans Collection 08.12.2012–05.05.2013
Fashion and the Cold War 14.09.2012 – 20.01.2013
MUSEUMS & GALLERIES
TALLINN
Museums
Estonian Museum of Applied Art and Design (Eesti Tarbekunsti- ja Disainimuuseum) Lai 17, Tallinn Old Town, 1G www.etdm.ee. We-Su 11 – 18
Estonian History Museum Great Guild Hall (Eesti Ajaloomuuseum) Pikk 17, Tallinn Old Town, G1 www.ajaloomuuseum.ee 01.09 – 30.04 Th-Tu 10–18
Estonian History Museum Maarjamäe Palace Maarjamäe Castle, Pirita tee 56, Tallinn, A5 www.ajaloomuuseum.ee We-Su 10–17
Estonian Maritime Museum (Eesti Meremuuseum) Pikk 70, Tallinn Old Town, D3 www.meremuuseum.ee. 01.10-30.04 Tu-Su 10–18
Estonian Museum of Natural History (Eesti Loodusmuuseum) Lai 29a, Tallinn Old Town, F2 www.loodusmuuseum.ee. We-Su 10–17
Estonian Open Air Museum (Eesti Vabaõhumuuseum) Vabaõhumuuseumi tee 12, Tallinn. www.evm.ee 23.04-28.09 Mo-Su 10-20, 29.09-22.04 Mo-Su 10-17
Estonian Theatre and Music Museum (Eesti Teatri- ja muusikamuuseum) Müürivahe 12, Tallinn Old Town, I2 www.tmm.ee. We-Sa 10-18
Kiek in de Kök & Bastion Passages Kommandandi tee 2, Tallinn Old Town, J1 www.linnamuuseum.ee/kok/ 1.03-31.10 Tu-Su 10.30-18 1.11-29.02 Tu-Su 10-17.30
Miia-Milla-Manda Museum (Muuseum Miia-Milla-Manda) L. Koidula 21C, Tallinn B4 www.linnamuuseum.ee/miiamillamanda. Tu-Su 12-18
Dominican Monastery Museum (Dominikaanlaste Kloostri museum) Vene 16, Tallinn Old Town, G3 www.kloostri.ee. 1.06-30.09 Mon-Sun 11-17 Winter by appointment only.
Museum of Estonian Architecture (Eesti Arhitektuurimuuseum. Rotermanni soolaladu) Ahtri 2, Tallinn, A2. www.arhitektuurimuuseum.ee We 12–18, Th 12-20, Fr-Su 11-18
Museum of Puppet Arts NUKU (Nukumuuseum NUKU) Lai 1, Tallinn Old Town, G1 www.nuku.ee. Tu-Su 10-19
Occupation Museum (Okupatsioonimuuseum) Toompea 8, Tallinn Old Town, B1 www.okupatsioon.ee. Tu-Su 11 – 18
Photo Museum (Raevangla fotomuuseum) Raekoja 4, Tallinn Old Town, H2. (Located behind Tallinn's Old Town Square) www.linnamuuseum.ee/fotomuuseum 1.03-31.10 Th-Tu 10.30-18, 1.11-29.02 Th-Tu 10-17.30
Tallinn City Museum (Tallinna Linnamuuseum) Vene 17, Tallinn Old Town, G3 www.linnamuuseum.ee We – Mo 10.30–17.30
Viru Hotel and KGB Museum (Hotell Viru ja KGB muuseum) Viru väljak 4, Tallinn B2 http://www.sokoshotels.fi/en/hotels/tallinn/basic-information/ hotel-viru-and-kgb-museum/ N.B. 01.11.12-31.03.2012 closed on Mondays Please contact the hotel to make a booking. Tours available in English, Finnish, and Russian.
Art Museums & Galleries
Adamson-Eric Museum (Adamson-Ericu muuseum) Lühike jalg 3, Tallinn Old Town, I1 www.adamson-eric.ee We-Su 11–18
Kadrioru Art Museum (Kadrioru kunstimuuseum) Weizenbergi 37, Tallinn, A4. www.kadriorumuuseum.ee Jan–Apr: We 10–20, Th–Su 10–17 May–June : Th 10–17, We 10–20, Th–Su 10–17 July–Dec 2012 Closed for renovations.
Mikkeli Museum (Mikkeli muuseum) Weizenbergi 28, Tallinn, B4. www.mikkelimuuseum.ee Jan–June: We 10–20, Th-Su 10–17 July–Dec: Tu, Th-Su 10–17, We 10–20
Kumu Art Museum (Kumu kunstimuuseum) Weizenbergi 34/Valge 1, Tallinn, B5 www.kumu.ee Oct–Apr: We 11–20, Th–Su 11–18 May–Sept: Tu 11–18, We 11–20, Th–Su 11–18
Niguliste Museum (Niguliste muuseum) Niguliste 3, Tallinn Old Town, I1 www.nigulistemuuseum.ee. We-Su 10–17 Ticket office closes 16.30
Smaller Galleries
Draakoni Galerii Pikk 18, Tallinn Old Town, G2 www.eaa.ee/draakon/dindex.htm Mo-Fr 11-18, Sa 11-17
Hobusepea Galerii Hobusepea 2, Tallinn Old Town, G2 www.eaa.ee/hobusepea/hindex.htm We-Mo 11-18
Kunstisalong Allee Pikk 34, Tallinn Old Town, G2 www.allee.ee Mo-Fr 10-18, Sa 11-15 Tallinna Kunstihoone Vabaduse väljak 8, Tallinn Old Town, J1 www.kunstihoone.ee We-Su 12-18
Vaal Galerii Tartu mnt 80d, Tallinn www.vaal.ee. Tu-Fr 12-18, Sa 12-16
Vabaduse Galerii Vabaduse väljak 6, Tallinn Old Town, J1 Mo-Fr 10-18
TARTU
Museums
Estonian Literary Museum (Eesti Kirjandusmuuseum) Vanemuise 42, Tartu www.kirmus.ee. Mo-Th 9 – 17, Fr 9 – 16.30
Estonian National Museum (Eesti Rahva Muuseum) Kuperjanovi 9, Tartu www.erm.ee. Tu-Su 11 – 18
Estonian Sports Museum (Eesti Spordimuuseum) Rüütli 15, Tartu www.spordimuuseum.ee. We-Su 11 – 18
KGB Cells Museum (KGB Kongide Muuseum) Riia 15b, Tartu http://linnamuuseum.tartu.ee. Tu-Sa 11- 16
Museum of the 19th Century Citizen of Tartu (19. Saj. Tartu Linnakodaniku Muuseum) Jaani 16, Tartu http://linnamuuseum.tartu.ee. We-Su 10-15
Postal Museum (Postimuuseum) Rüütli 15, Tartu www.erm.ee/en/visit/postal-museum. We-Su 11- 18
Tartu City Museum (Tartu Linnamuuseum) Narva 23, Tartu. Tu-Sa 11- 18 http://linnamuuseum.tartu.ee
Old Observatory (Tähetorn) Lossi 40, Tartu Tu-Su 10 – 18. http://www.ajaloomuuseum.ut.ee/tahetorn
Tartu Song Festival Museum (Tartu Laulupeomuuseum) Jaama 14, Tartu Tu-Sa 12 – 18. http://linnamuuseum.tartu.ee
Tartu Toy Museum (Tartu Mänguasjamuuseum) Lutsu 8, Tartu www.mm.ee. We – Su 11 – 18
City Hall Museum (Raemuuseum) Raekoda, Tartu (Town Hall Square) http://linnamuuseum.tartu.ee/?m=4 15.09-14.05 Mo 9-18, Tu-Fr 9-17, Sa-Su 10-14 15.05 -14-09 Mo-Fr 9-18, Sa-Su 10-17
Art Museums & Galleries
Tartu Art Museum (Tartu Kunstimuuseum) Raekoja plats 18, Tartu http://www.tartmus.ee We-Sa 12:00 – 18:00, Su 11:00 – 18:00
Tartu Art House (Tartu Kunstimaja) Vanemuise 26, Tartu www.kunstimaja.ee We-Mo 12-18
To learn more about this and similar topics