From tomorrow, you can eat pig's tail marinated the Medieval way in Tallinn
Text Mark Taylor
Photo III Draakon Tavern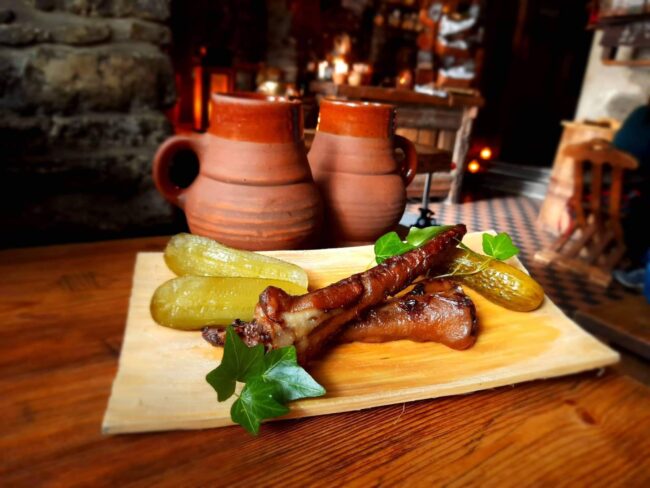 From Thursday, October 20, marinated pig's tail will be added to the menu at III Draakon Tavern in Tallinn's town hall square. As with other items on their menu, the pig's tail will be marinated and cooked the medieval way.
According to folklore, pig's tail has been a completely respectable food on Estonian tables – for example, it has been on the New Year's menu for Estonians of old. At the same time, this is not a very common food for today's townspeople," said Hella Feuersprache, landlady of the III Draakon Tavern.
Adding pig's tail to the menu doesn't just offer visitors the chance to try something new, but to offer a cheaper food option at an economically tough time, and be more sustainable.
"Our goal has been to use everything that has already been killed, shot or collected for food, so that nothing goes to waste. I think that in today's economic situation, this is again a popular view of cooking, and the price of our pig's tail – 3 euros, certainly won't knock anyone off their feet either," adds Feuersprache.
The pig's tail on offer at III Draakon Tavern is marinated for a long time and seasoned with various spices. It can be eaten, for example, with pickles, which can be taken from the barrel in the tavern as much as you like. It also goes well with beer.
III Draakon Tavern, located in the old courtroom of the Town Hall, is a simple dining and drinking room following the tradition of a medieval roadside tavern. Where visitors can get a quick and cheap medieval meal/snack and a drink.
To learn more about this and similar topicsDraakon Tavern Food III Draakon Tavern Medieval Food Medieval Tallinn Pig's Tail Tallinn Tallinn Town Hall Square