Enjoy the foods of the forest in Southern Estonia
Text Susanna Poikela
Photo Visit Estonia / Näljane Nelik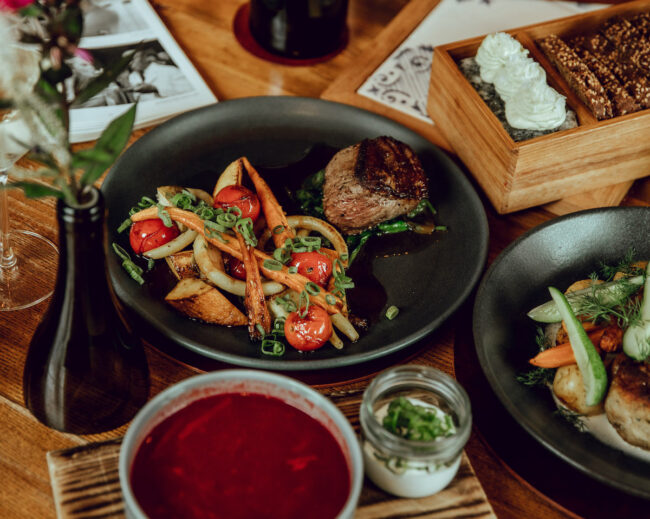 The food event "From Forest to Table" starts tomorrow, November 3, across Southern Estonia and will continue for more than two weeks until November 19. Restaurants from six counties in Southern Estonia will participate in the event.
During the food extravaganza, you can enjoy the special menus of restaurants and cafes all across Southern Estonia, where at least one ingredient has come from the forest, and which mainly consist of local ingredients. The price of the special menus are 25–30 euros.
In Southern Estonia, a lot of different foods containing grain have been traditionally eaten for hundreds of years. Porridges and soups, potatoes, cabbage and legumes have also played a leading role in the areas cuisine. Fish has been caught from Peipse and Sibultee's onions are known nationwide. Even today, southern Estonian food is characterised by clear and simple flavours.
Tartumaa
Tartu's food culture has been influenced by many national cuisines throughout the ages. Pleasant additions to the local dining table have been made by Russians, the Votian people, Poluverniki, Setos, Russian Old Believers and Baltic Germans. Fish has been an important food, being caught from Peipsi and Võrtsjärv lakes.
Võrumaa
Flavours characteristic of the region include Võru meat smoked in a smoke sauna and tasty soups, as well as Seto cheese "Seto sõir" and baked porridge. Võrumaa's food culture has been influenced by the indigenous Võru (võrukesed) people and Setos, who have lived in the area for centuries, and who have their own language, but who today have merged with the native population while still preserving their own customs, culture and language.
Viljandimaa
This time, 13 exciting eateries from the city of Viljandi and its surroundings have joined the event. The local food culture has developed rapidly in recent years. Restaurant Fellin, which turned ten years old, receiving the prestigious Michelin Bib Gourmand earlier this year.
Põlva County
Põlvamaa's food culture combines the foods of Southern Tartumaa, Setomaa, and Võrumaa. Special attention should be paid to Põlvamaa's hemp and linen products, whose cultivation traditions go back to the distant past. In addition to delicious farm products, the local fish of Peipsi and Lämmijärvi lakes are also delicious in the dishes of the people of Pölva.
Jõgevamaa
Jõgevamaa shares common food traditions with old Tartu and Viljandimaa, because before the Second World War, the current area of Jõgevamaa belonged to these counties.
Valgamaa
Valgamaa is Estonia's southernmost county, where different peoples and cultures and a rich food culture intertwine, starting from Mulgimaa, intertwining with Latvian food culture and passing through Old Tartumaa and Otepää to Otepää's old Võrumaa.
To learn more about this and similar topicsFood Event Food Festival Otepää Peipsi Lake Restaurant Week Sibultee Southern Estonia Tartu