Dentistry in Estonia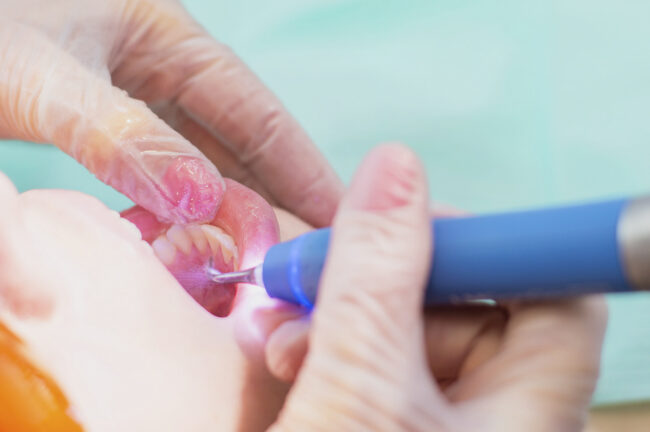 Ilkka Kaartise's dental practice has been in business in Tallinn for the better part of this century. Earlier, he worked in Katajanokka, a suburb of Helsinki.
On the second floor of the Krediidipank building, the office has a corner view over the tram stop at Narva mnt. While most of Ilkka Kaartise's clientele is Finnish, the staff at the office speak English.
"I do mainly large procedures, crowns and bridge work in particular", explains Kaartinen. "Compared to Finnish prices, the client saves 50-70%". The same can be said when comparing prices in Sweden, the UK, or even Canada and the US.
Estonia uses modern dentistry equipment. One of Kaartise's newest tools is a laser teeth whitening system. "95% of clients have been very satisfied with the results. Among the younger patients, it's rare that they experienced any pain after the procedure. Pain can be eased with a soothing gel". A similar procedure in the UK can cost between 300-500 pounds ; at Dental Kaartise it is only €150.
Personal Experience
We asked our English Edition Editor Kristina Lupp who is a Canadian-born Estonian, about her experiences with dental care in Estonia.
"I have relatives who have been coming for years from Canada and Sweden for dental procedures, not only for the lower cost, but also the excellent service and modern techniques and equipment used. Me, personally, I have not had to have any major work done, but even a regular teeth cleaning is not only cheaper (compare €60-€80 to $250 in Toronto), but it is also a much more comfortable procedure than that with my dentist back in Canada".
Location
Dental Kaartinen, Narva mnt 4, Tallinn 
Second floor, Krediidipank Building
http://dentalkaartinen.com/en/
Click on the address to see location
TEXT MIKKO SAVIKKO, PHOTO DENTAL KAARTINEN
To learn more about this and similar topics