An exhibition aimed at budding art collectors has opened at the Victoria Olt Gallery in Tallinn
Text Mark Taylor
Photos Kadri Tiganik Photography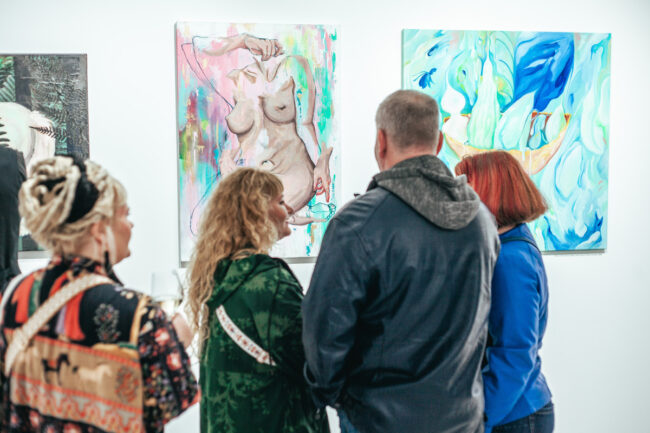 On Friday, September 29, a new group exhibition "Art Collection Starter" opened at the Victoria Olt Gallery in the Old Town of Tallinn. This exhibition invites visitors to begin their personal art collection. At the exhibition, you will see a diverse selection of different techniques at affordable prices, created by experienced artists as well as those who are just starting their artistic journey.
"Art Collection Starter" is Victoria Olt Gallery's last exhibition of 2023. This time, the gallery is focusing on a group exhibition that aims to help people find the right artwork to start their art collection. "Art Collection Starter" introduces young artists both from Estonia and abroad, presenting a diverse selection of styles, techniques, prices, and dimensions, so that every visitor can find something suitable for them.
According to Victoria Olt, the exhibition is a great opportunity for those who have never bought art before and are afraid of making the wrong choice. "At this exhibition, visitors have the opportunity to get advice and choose works from already recognised artists or to discover the works of talented new artists who are just at the beginning of their journey," she explained.
"At the same time, with this exhibition, I would like to raise awareness that art does not belong only on the walls of a gallery, but above all to inspire people either at home or work on a daily basis," added Olt.
Among the styles represented at this exhibition are more classic acrylic and oil paintings, watercolours and sketches, and for the first time, photography and calligraphy will also find a place on the walls of the gallery. These styles are presented by artists from Estonia, England, Germany, Poland, Holland, Lithuania and Italy.
The exhibition "Art Collection Starter" which is free to enter, will remain open at Victoria Olt Gallery in Tallinn until December 23, 2023. The gallery is open from Monday to Friday from 11 am to 7 pm.







To learn more about this and similar topicsArt Art Exhibition Exhibition Free Art Exhibition Tallinn Victoria Olt Victoria Olt Gallery