A new casual gourmet restaurant in Kalaranna
Text and photos Timo Huttunen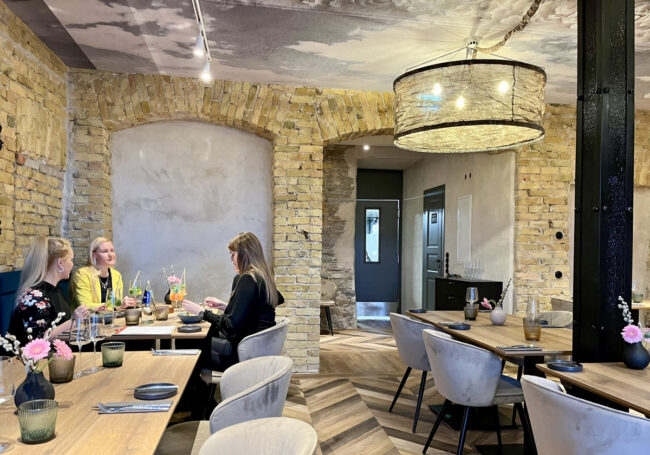 Kogu successfully combines old and new.
Restaurant Kogu is located by the sea in Kalaranna, between Linnahall and the old Patarei sea fortress in Tallinn.
The restaurant is a little hard to find. The first thing you see is a bakery café called Kogu, which is right next to the restaurant. The bakery is where Kogu's melt-in-your-mouth breads are made.
Inside, Kogu has successfully combined the old and the new. Old slate walls and large light fittings dominate. The tables and flooring are wooden, and the chairs modern.
The reception and service at Kogu was professional and friendly. The fact that our waitress, Terje Kivi-Cauldwell, has been working in England for years as restaurant manager, including at Jamie Oliver's Fifteen, says something about the standard. As well as serving, she now teaches service management in Estonia.
It was a big surprise that on a Thursday evening in April, Kogu was almost full. "It's great that customers have found us, even though the restaurant has only been open for six months," says Kivi-Cauldwell.
One reason is probably that Pavel Gurjanov, the owner and chef at Kogu, was for years under the tutelage of Roman Zašerinski, chef at Ö Restaurant and now owner of Moon Restaurant, among others. Kogu's cuisine is therefore of a high standard.


The menu is compact, with only a few carefully considered dishes. The Dry Martini cocktail ordered as an aperitif was not available due to a lack of olives, but the Bloody Mary was good.
The starters were a roast beef sandwich topped with cinnamon rolls and a Böff à la tartare, prepared in the traditional way. Both dishes were excellent.
The lamb for the main course was perhaps too large, but the dish was good. Fortunately, the taste of the lamb was not masked by over-seasoning.
The entrecôte, served medium rare, was a little overcooked. But the brownie for dessert made up for it.
The excellent Malbec wine that accompanied the dinner cost €32 a bottle.
Kogu Resto ja Pagar, Võrgu 6, Tallinn.

To learn more about this and similar topicsKalaranna Kogu Kogu Resto ja Pagar Linnahall Moon Paterei restaurant Tallinn