A dark Scandinavian style café on the outskirts of the city centre
Text and photo Mark Taylor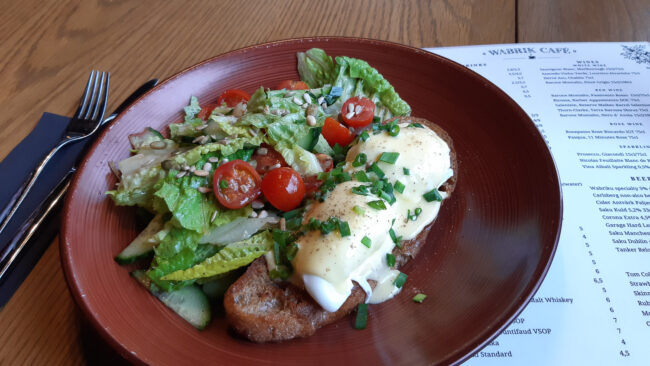 As you approach Wabrik Café, the first thing you will likely see is an incredibly cool look old car with their branding outside. However, this couldn't be in more contrast to the inside of the café, which is decorated in a dark and trendy Scandinavian noir style.
When it comes to the menu, it is possible to enjoy breakfast, lunch and dinner at Wabrik Café. Breakfast is definitely the most restrictive when it comes to choice, with just 6 options. However, at lunch, they have two daily specials. A cheaper option (usually soup) that costs 4.90, and a larger meal that costs either 6.90 or 7.50. If you don't fancy any of the daily specials, you can choose from the decent (if not large) a' la carte menu or separate pizza menu. They have a big pizza oven right behind the counter.
When it comes to the quality of the food, it was decent, and you won't be disappointed in the price range. Main meals cost 10-15 euros, with pizzas ranging from 7.50 to 10.90. The service is also prompt and decent.
The café is located on Parnu mnt, about a 10-minute walk from Freedom Square. It is also possible to get there by both tram or bus from the city centre in just a couple of minutes. Meaning that despite being a little out of the city centre it is quick and easy to get to.
Despite the fact that it looks nice, the food is tasty, and the service is good, something is missing – a soul. For that reason, Wabrik Café is somewhere that is definitely worth checking out, but at the same time, it is somewhere I will likely not be returning to.
Wabrik Café is open from 9 am – 9 pm Monday to Thursday, 9 am – 10 pm on Fridays, 10 am – 10 pm on Saturdays, and 10 am – 8 pm on Sundays.
To learn more about this and similar topicsCafe Parnu Mnt Café Tallinn Pizza Tallinn Tallinn Tallinn Café Tallinn Restaurant Wabrik Wabrik Cafe