A basement café in the Rotermann quarter that has the feel of a grandma's living room
Text and photos Mark Taylor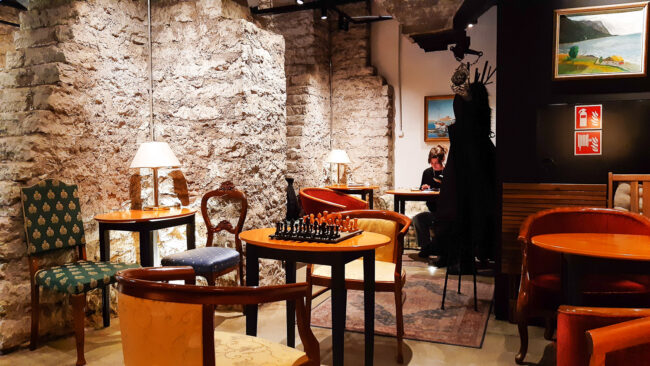 For those of you that arrive in Tallinn by boat, the modern Rotermann Quarter will probably be the very first part of Tallinn you see on your walk towards the old town.
With the modern buildings and alleyways home to a wide range of different shops, restuarants and cafes. One such café is Epic Coffee.
As you can tell from its name, the focus of this café is really on the coffee. Being on the same street as RØST bakery, it is probably a good idea they have chosen not to sell pasties! However, they do have a nice little selection of cakes.
Where RØST is more of a place to grab a pastry and a drink on the go, Epic Coffee has a much more relaxed come and stay vibe. It is somewhere where you go to put your feet up for a little bit and enjoy a nice cup of coffee and a cake.
This is made much easier by the décor, that makes the café feel more like a cozy grandma's living room in the countryside than a modern café or takeaway coffeeshop.
The café also has free wifi and plenty of plug sockets if you need to get some work done or charge your phone after a long day taking pictures.
The café only has two obvious downsides. The first is the fact that it is on the 0.5 floor (kind of a half basement). This means that you will need to go down a number of steps to enter. This can make the café difficult to access for wheelchair users or those with reduced mobility.
The other is that apart from cakes they don't serve food. Meaning if you want a proper meal, or you are looking for somewhere to work for more than a few hours, you will need to go elsewhere – which is a shame.

To learn more about this and similar topicsCafes in Tallinn Café Coffee Epic Coffee Epic Coffee Rotermann Rotermann Tallinn Café