Tickets for the Youth Song and Dance Festival 2023 have gone on sale
Text Mark Taylor
Photo Andrei Chertkov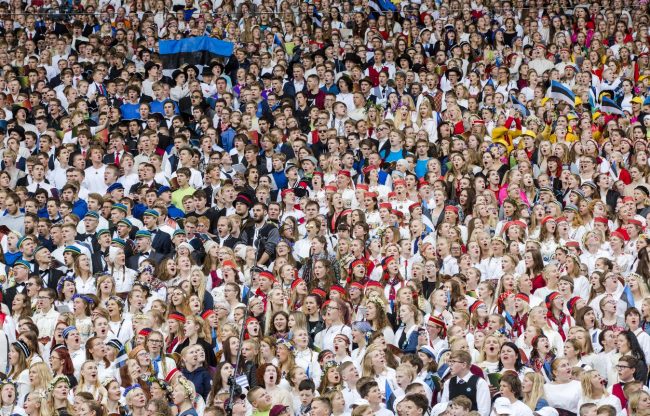 Tickets for the 13th edition of Noorte Laulu- ja Tantupidu 2023 (Youth Song and Dance Festival) have gone on sale. The event, which is the youth version of the world-famous Estonian Song and Dance Festival, will take place between June 30 and July 2, 2023.
This year marks the 60th anniversary of the Youth Song and Dance Festival. Like its equivalent, it is held just once every 5 years, making this year's edition just the 13th time it has been held.
The year's festival will begin oat 7 pm on June 30th with the Dance performance "Bridges" at the Kalev Stadium in Tallinn.
"Bridges tells the story of a young person who grows over time, who builds, creates and searches for bridges within, in order to grow into a happy person," explained Agne Kurrikoff-Herman, the Choreographer of the 13th Youth Dance Celebration.
There will also be two further performances of "Bridges" on July 1. Tickets for the dance performance cost between 8 and 69 euros.
The Song Festival portion of the Festival will begin at noon on July 1 with a free concert performance entitled "Really" at Freedom Square in the centre of Tallinn.
This will be followed on Sunday, July 2 at 2 pm with the main song festival day entitled "Holy is the Land" at Lauluväljak in Kadriorg. Tickets for the event will also cost between 8 and 69 euros.
"The 13th Youth Song Celebration is inspired by the poem written by Hando Runnel titled 'Let There Be Light! (Valgust!)' which, on the one hand, is like an ode to the beautiful nature of Estonia, and on the other, asks these important questions: what is light in the spiritual sense; who is the one who enables the sun to shine?" said Pärt Uusberg, Artisitic Director of the 13th Youth Song Celebration.
Tickets for the various performances can be purchased on the official festival website here.
To learn more about this and similar topicsLauluväljak Laupidu 2023 Noorte Laulu ja Tantupidu 2023 Song Festival Tallinn Tantupidu 2023 Youth Song and Dance Festival 2023