This Christmas, Tartu will offer an ice rink, an aquarium, a poetry bank and an ice cream pavilion, as well as an 18-meter Christmas tree
Text Timo Huttunen
Photos Mana Kaasik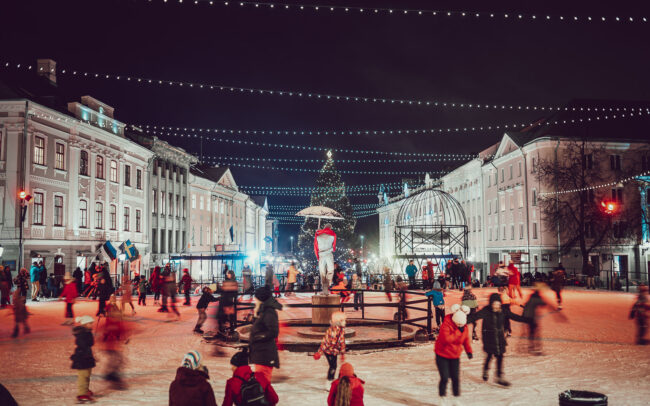 Just like last year, Tartu is building a thousand-square-meter ice rink in the heart of the city, on the Town Hall Square.
In connection with the skating rink, the traditional "Valgusküla" or light village will also be found next to the town hall, creating a Christmas atmosphere throughout the square.
"Valgusküla" will be completed by the first Sunday of Advent. By the town hall, you will be able to take sleigh rides and get to know the ponies. A straw house, which has already become a classic, will also be built, along with a number of stalls housing coffee and gingerbread merchants.
In addition, there will be a pavilion showing cartoons along with a traditional wooden, animal-themed carousel on the square.

As a novelty, in cooperation with the Limnology Center of the Estonian University of Life Sciences, an aquarium will be built, where you can get acquainted with fish from Estonian rivers and lakes.
Lastly, there will be an ice cream parlour in the market and a poetry bank that distributes poems to visitors instead of cash. "Valgusküla" will be open from 28 November 2021 to 9 January 2022. The ice rink will be open until the end of February 2022.


The Tartu Christmas tree comes from Võru
The Christmas tree in Tartu Town Hall grew in the village of Koloreino in the municipality of Võru. It arrived in Tartu on 16 November.
"I myself grew up with this spruce. When I was born, it was a small seedling," said Martin Lupp, a 36-year-old from Võru who grew the spruce. The tree, which is nearly 18 metres tall, grew in the backyard of his farmhouse. He is happy to send a spruce from his garden to the residents of Tartu for Christmas.
The city of Tartu asked for bids from those landowners who planned to cut down a big spruce before Christmas. A total of a dozen bids were received. The spruce growing in Mr Lupp's garden proved to be the most suitable. The Christmas tree will remain in the Town Hall Square until 17 January.
To learn more about this and similar topicsChristmas Christmas Market Christmas sales Christmas Town Christmas tree Ice Rink Stall Tartu