The population of Estonia grew by 2% in 2022
Text Mark Taylor
Photo Andrei Chertkov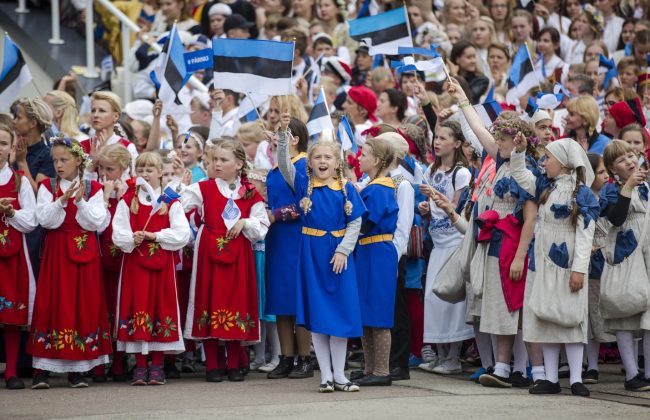 According to preliminary data published by Statistics Estonia, on 1 January 2023, the population of Estonia was 1,357,739, which is 2 per cent (25,943 persons) more than at the same time a year ago. In 2022, there were 11,588 births and 17,245 deaths in Estonia. However, 42,022 persons immigrated to Estonia and 10,422 persons emigrated from Estonia. 75 per cent (31,594) of the immigrants were from Ukraine.
"The number of deaths remained high, although it was slightly smaller than in 2021. However, the number of births in 2022 was at an all-time low, with just 11,588 births registered last year. The registered number of births has never been under 12,000 in Estonia, according to available population statistics dating back to 1919. The population figure was boosted by immigration. The biggest impact can be attributed to Ukrainians who accounted for 75 per cent of all immigrants in 2022," said Terje Trasberg, a leading analyst at Statistics Estonia.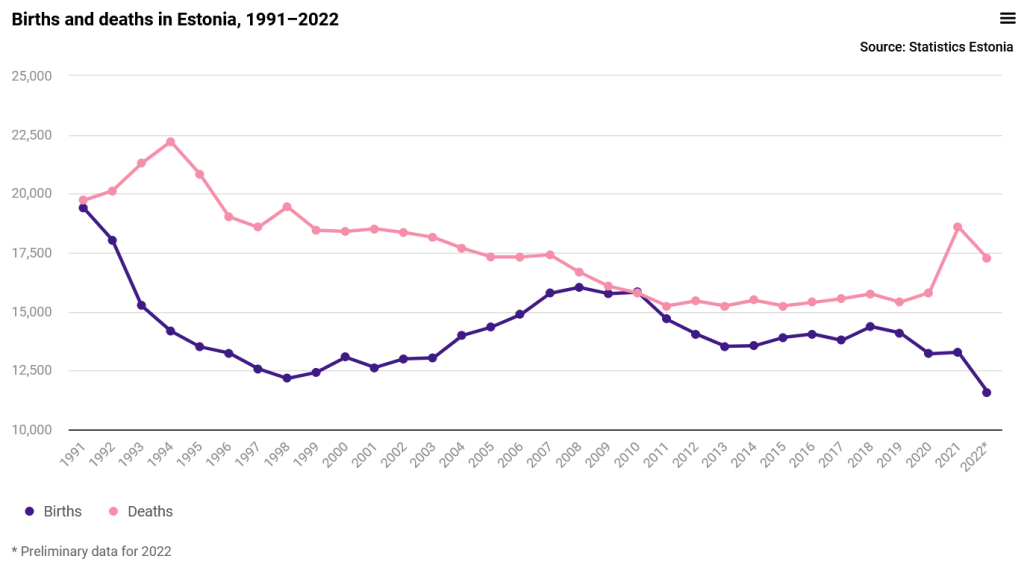 The number of deaths, which grew sharply in 2021 (18,587), decreased slightly in 2022 (17,245), but there were still almost 1,500 deaths more last year than in pre-pandemic years. In the period 2010–2019, the average number of deaths was 15,545 per year, while between 2020 and 2022 the average number of deaths was 17,214 per year. The higher number of deaths is related to the impact of the coronavirus crisis as well as the ageing population.
11,588 births were registered in 2022. It is the lowest number of births since 1919, when comparable birth statistics were first published. The number of births has been in decline since the restoration of independence, except for a slight uptrend at the end of 2000s.
"The women giving birth now were born in the 1990s, when the number of births was low. Therefore, in addition to other reasons, the low number of births is also due to the fact that the current young generation is smaller than the previous one," explained Trasberg.
According to the data on registered migration, 42,022 persons immigrated to Estonia and 10,422 persons emigrated from Estonia in 2022. This means that net migration was positive, as there were 31,600 more persons moving to Estonia than leaving. Both registered immigration and net migration were several times larger than the average of recent years, due to the arrival of war refugees from Ukraine.
Based on citizenship, the largest number of immigrants settling in Estonia had Ukrainian citizenship (31,594). Ukrainians have been the largest group of immigrants already since 2018, but the number of Ukrainian immigrants has previously been much lower (2,374 in 2020, and 3,047 in 2021).
"There were 3,363 Estonian citizens returning to Estonia in 2022, but Estonians often do not register their migration and thus the share of Estonian citizens among registered migrants is small. In 2022, there were 1,446 immigrants with Russian citizenship," added Trasberg.
Women represented 60 per cent of the immigrants. This is the first time in this century that the share of women among immigrants is greater than the share of men. In the last ten years, men have held the bigger share at a roughly 60:40 ratio. The bigger share of women in 2022 resulted from the immigration of Ukrainian refugees, as 64 per cent of them were women.
To learn more about this and similar topicsBirth Rate Estonia Coronavirus Emigration Estonia Estonian Population 2023 Estonian Population Immigration Estonia Statistics Estonia Ukrainian Refugees