STATIC blues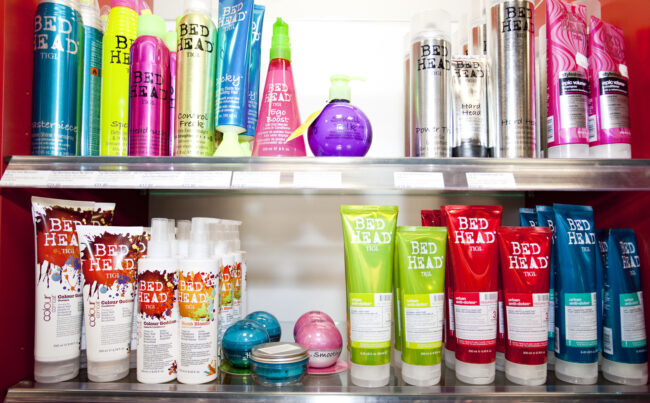 hairmail, rotermanni, winter hair, tallinn, bedhead, wella, goldwell, l'oreal
Living in a northern climate means long, chilly, snowy winters, and bundling up before going outside. You spend all morning blow-drying your hair and then covering it with spray to make sure it looks silky and smooth. You put your hat on to go outside, and as soon as you take it off, the static is back! Don't worry, there is a solution. Liis Sooäär, a sales consultant at Hairmail in Tallinn, has a few suggestions.
It's not too late! No hair is beyond repair. These products help you fix dry dead ends, and bring back your hair's natural shine. "Hair masks are a great way to put moisture back into your locks," explains Liis. "If you are in a hurry, there are even some quick masks that take no more than one minute." Liis explained that if you do have a bit more time, wearing a hair mask in the sauna, can really increase its results.
Liis offers one final suggestion for winter hair care. "Blow dry and straighten your hair in moderation, as it can be particularly hard on your hair in winter. And be sure to always use a heat protection spray before blow drying."
PROBLEM : STATIC FROM WEARING A HAT, OR LONG HAIR THAT CLINGS TO YOUR CLOTHES.
Goldwell Winter Care Anti-static Shampoo and 60-second Mask Use this shampoo and mask regularly during the winter months to prevent static. Both the shampoo and mask have a refreshing orange scent.
Shampoo 250ml 9,60€
60 Second Mask 200ml 11,50€
Buy this as part of a gift set, including hand cream 23,00€
Goldwell Satin Guard 200ml 17,30 € Spray onto hair when it's dry for moisture protection up to 72 hours and to prevent static.
TIGI Bed Head Spoil Me 300ml 21,90€ Use this spray before blow-drying to protect your hair from the heat. Use on dry hair to prevent frizz and static
PROBLEM : DRY HAIR FROM INDOOR HEATING AND BLOW DRYING
.L`OREAL Mythic Oil 125ml 26,00€ The Mythic Oil line of products contains avocado and grape seed oil. The oil is best used to repair dry dead ends and adds a sleek shine, while not leaving your hair feeling greasy.
TIGI Bed Head Urban Antidotes Resurrection
Use these products in winter to prevent dry hair from breaking.
Shampoo 250ml 15,90€
Conditioner 200ml 17,90€
L`OREAL Intense Repair This series gives intense moisture to your hair without leaving it feeling greasy. It leaves your hair smooth, silky and strong.
Shampoo 250ml 11,20€
Mask 200ml 16,30€
Wella Enrich Series
These products restore hair's moisture, and give a little bit of volume as well. They contain cider extract to leave hair feeling smooth. Available for: thick, normal, and fine hair.
Shampoo 250ml 11,10€
Conditioner 200ml 12,95€
Mask 150ml 13,40€
Location
Hairmail Rotermanni 6, Tallinn A2
To learn more about this and similar topics