Same Café New Location
Text and photos Mark Taylor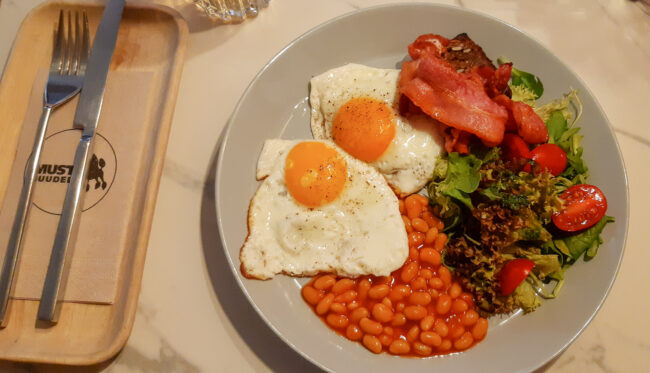 One of the rare meat options on the menu. The "Sunny side up eggs" from the breakfast menu.
For those of you that live in Tallinn or visited a number of times before the pandemic. Walking around the old town today, you may notice that many restaurants and cafes have gone, with new ones emerging in their place.
For that reason, a short walk down the quiet backstreet of Müürivahe tanav may make you think that the popular Must Puudel café has been one of these casualties. Luckily not, they have just moved to a new location at Kuninga 4 close to the old town square.
The new café certainly has a trendy and funky 70's feel. One huge benefit of Must Puudel over other cafes and restaurants in the city is the fact that they open at 9 am, making it a viable breakfast option when compared to the fact that most cafes open at 10 am or later, and restaurants mostly from noon.
The menu is not the largest, but it is rich in options if you are a vegan, vegetarian or have gluten/lactose intolerances. This makes Must Puudel one of a growing number of great choices in Tallinn for Vegans.
The café never seems to get too busy, even at lunchtime (the most popular time to eat out in Tallinn), which adds to the laid back and friendy atmosphere. When it comes to prices, it is fair to say that Must Puudel is definitely more priced in line with restaurants than cafes, with main meals being between 10-15 euros. Although they do have regular lunch offers for less than 5 euros.
The only really noticeable downside to Must Puudel is for those in wheelchairs or with reduced mobility. This is because although the small step at the entrance is manageable, the tight flight of stairs down to the bathroom in the basement may not be.
To start planning your trip…
To learn more about this and similar topicsCafé Café  in Old Town Eating Out in Tallinn Must Puudel Old town Tallinn Café Tallinn Restaurant Vegan Café Tallinn