Restaurant Guide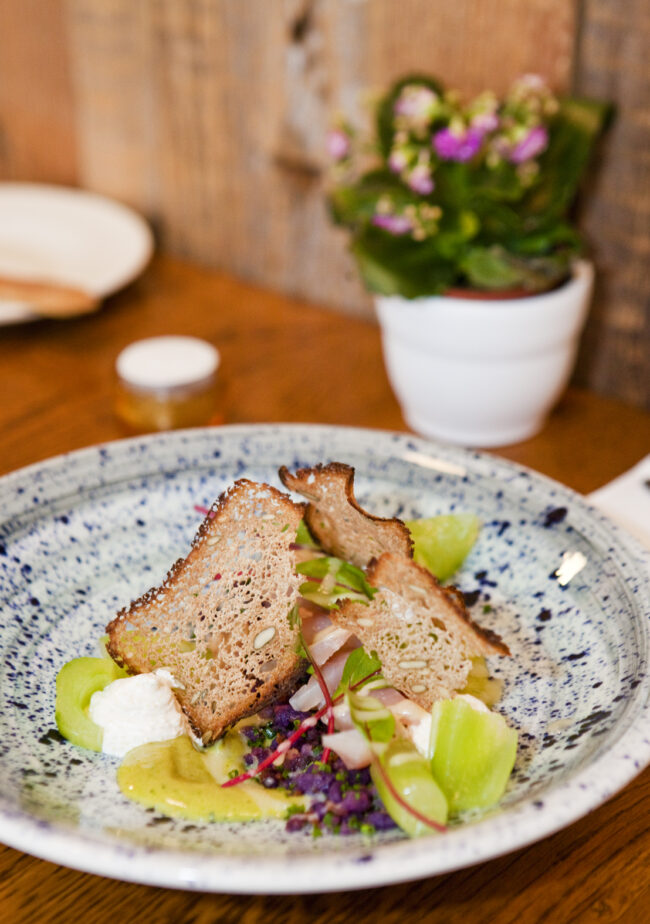 We asked locals what their favourite spots to eat are in the city. Here's what they said:
Vegetarian
VON KRAHLI AED
Aed is a great choice for vegetarian and vegan cuisine in Tallinn, and here is why: everything is clearly labelled on the menu.The menu changes seasonally and there is always something fresh and creative to taste.
Rataskaevu 10, Tallinn Old Town
www.vonkrahl.ee/aed/

ELEVANT
Indian food is also a go-to choice for vegetarian travellers, and Elevant is Tallinn's longest running Indian restaurant, open for 17 years. Serving sizes are generous, and main courses come with rice and salad. If you want to try a bit of everything, share a thali.
Vene 5, Tallinn Old Town
www.elevant.ee

NOP
Nop's selection changes seasonally, conjuring up some of the freshest and innovative veggie eats in the city. But don't worry—your omnivore friends will be delighted here too. Nop is located in the suburb of Kadriorg, which is about a ten-minute tram ride from the Old Town (No. 1 or 3 tram).
Köleri 1, Tallinn
blog.nop.ee 
Kohvik Inspiratsioon
Serving up a selection of vegetarian and vegan dishes, this small café is a great addition to the Tallinn dining scene. Dishes are creative and filling, the prices reasonable, and the staff friendly.
Lai 44, Tallinn Old Town
www.kohvikinspiratsioon.ee

Vegan Restoran V
V is always packed. Vegan or not, everyone should go and try the food here. Dishes are inspiring and show just how tasty a meat-free diet can be. Bookings are a must.
Rataskaevu 12, Tallinn Old Town
www.facebook.com/veganrestoran

MAMO
Mamo opened with the intention of offering a healthy alternative for a quick lunch, and this is just what they did. Mamo's menu is also very well labelled, indicating which dishes are gluten-free, lactose-free, vegan, or vegetarian. Mamo offers daily lunch specials, including soups, stews, and salads.
Liivalaia Mamo
Liivalaia 14, Tallinn
Tornimäe Mamo
Tornimäe 5, Tallinn
www.mamo.ee

Estonian
Vanaema Juures
Vanaema Juures offers traditional Estonian fare. Dishes are served up just like granny used to plate them –generously. Try the appetiser platter for a bit of everything and the braised beef cheeks as a main. And don't forget the pancakes for dessert!
Rataskaevu 10/12, Tallinn Old Town
www.facebook.com/RestoranVanaemaJuures

Liisu Juures
Estonians are known for their salted or marinated fish. To start, try the fried and marinated herring or a sprat sandwich with a shot of vodka. The creamy pea soup is also a good appetiser, but careful with Estonian soups, they are hearty and filling! The main courses reflect the Estonian people's love of meat. Our favourite is the sausage platter with three different kinds of sausage, including the traditional blood sausage served at Christmas.
Raekoja plats 13, Tallinn Old Town
www.liisujuures.ee/et

Kuldse Notsu Kõrts
Step into this cosy little inn, in the heart of Tallinn's Old Town. At Kuldse Notsu Kõrts, be sure to try the sausage feast. And what a feast it is! The platter includes different kinds of sausages with potatoes and sauerkraut. To drink, try a pint of the house ale.
Dunkri 8, Tallinn Old Town 
www.hotelstpetersbourg.com/restaurant/golden-piglet-inn

Farm
Farm opened last year to bring modern Estonian cuisine to Tallinn. The restaurant's interior is rustically elegant and the glass-enclosed open kitchen is the centre of attention in the middle of the room. A great place to try some traditional Estonian flavours reinvented.
Müürivahe 27B, Tallinn Old Town
restaurant.farm

Leib
Leib Resto ja Aed is the dream of sommelier Kristjan Peäske and chef Janno Lepik,two friends turned restaurateurs. Their love for good food and good wine can be seen in the restaurant's seasonal menus, and the ever-changing wine list. All of Leib's raw ingredients come from local farms and producers, the majority of which are organic too.
Uus 31, Tallinn Old Town
www.leibresto.ee

Mekk
MEKK stands for Moodne Eesti Köögi Kunst, or modern Estonian cuisine in English, and this is exactly how MEKK's food can be described. The flavours of traditional Estonian foods are combined with modern cooking techniques to produce wonderfully flavourful and colourful dishes.
Suur-Karja 17/19, Tallinn Old Town
www.tallinnhotels.ee/mekk/#/mekk/restaurant-mekk/

International
Schnitzel Haus
If you're in the mood for some great schnitzel, this is the place to come. Tucked away in the corner of the Old Town, enjoy different kinds and different sized schnitzels and wash it down with one of their draught beers.
Rüütli 28, Tallinn Old Town 
schnitzelhaus.ee

La Tabla
This Latin restaurant is certainly worth a visit. Their tortillas are handmade, the quesadillas were fantastic, as were the beef empanadas. The margaritas were also a hit.
Telliskivi 60, Tallinn
www.latabla.ee

Cerrito Burrito
The short menu at Cerrito Burrito offers tacos, salads, soups, nachos, and burritos, of course. There is something for everyone, including gluten-free tortillas and vegetarian fillings. Spicy means spicy here, but you can add even more to your burrito with their selection of hot sauces.
Estonia pst 9, Solaris 1st floor, Tallinn
www.facebook.com/cerritoburrito 
Gelsomino
While the menu at Gelsomino has a great selection of classic Italian dishes, it's the pizza you must try. It's a true favourite among locals, and some say the best pizza in town.
Lai 2, Tallinn Old Town
gelsomino.ee/et

Chakra
This is the best option for Indian in Tallinn. It's located in Tallinn's Old Town in a tiny passageway. The three dining rooms are rich- ly decorated with bright fabrics that hang from the ceiling. The menu is long, offering everything from veggies to seafood, chicken and lamb. And best of all: spicy means spicy.
Bremeni Käik 1 / Uus 19, Tallinn Old Town
www.chakra.ee

Ehe Maitse Gurmee Vinoteek
Enjoy a glass of wine and a small snack at this great little Italian wine bar. Located just off the main square, Ehe Maitse also serves of great lunch specials like different types of pasta. Great food and great prices – a hidden dining secret among locals.
Mündi 3, Tallinn Old Town
www.facebook.com/EHE-Maitse-Gurmee-Vinoteek-666481700033331/

Gotsu
Gotsu is the best place for Korean food in Tallinn, hands down. It's a little ways out of the Old Town, but worth the walk, or short tram ride. Try some of the house made ice tea, kimchi, and the fried chicken with chilli.
Pärnu mnt 62a, Tallinn
gotsu.ee

Ancho
The stuffed jalapenos are a must, especially if you like spice. The chillies are stuffed with melted cheese, battered and fried, and served with sour cream. Come for Taco Tuesdays where you can get three different tacos, all for €5. Wash it all down with one of their Mexican beers. Check their Facebook page for daily specials.
Müürivahe 17, Tallinn Old Town
www.ancho.ee

Troika
This long-running Russian restaurant expanded last year to cater to the ever-growing demand for authentic Russian food, drink, and service. The walls and bright interior are luxurious, but in no way excessive. The authentic Russian food is well known at Troika and the service is theatrical. Think: waiters pouring vodka shots from high up.
Raekoja plats 15, Tallinn Old Town
troika.ee

Krua
Krua is praised by local for being the best Thai restaurant in the city. Why? Food is fresh, service is friendly and helpful, spice and heat are well balanced in the dishes and you can eat in or takeaway. We'll let you decide.
Aia 4, Tallinn Old Town 
www.krua.ee

Korsaar
This pirate-themed restaurant may seem a bit absurd in the middle of a medieval Old Town, but ignore this, go inside, and get ready for some great seafood. Prices are on the higher end, but service was good and so was the food.
Dunkri 5, Tallinn Old Town
www.korsaar.ee

Konteiner
One of the latest additions to the ever-growing restaurant scene in the Bohemian neighbourhood of Kalamaja, Konteiner serves up Vietnamese food in, well, a shipping container. Their red chicken curry was nice and hot, and the summer rolls were a fresh start to the meal.
Telliskivi 62, Tallinn
www.facebook.com/Konteiner-769209066457075/

Papa Joe's Falafel
Located in the port area of Tallinn, Papa Joe's Falafel has a small menu of vegetarian and meat dishes, and now serving beef schwarma as well. Be sure to try the grilled halloumi and sujuk wrap. The falafels are prepared while you wait, and you can take some dips and olives home as well.
Sadama 25/4, Tallinn
www.kebabking.ee 
Pegasus
Pegasus reopened its doors in its original location in Tallinn's Old Town. The playful menu boasts international cuisine with Estonian flavours. Dishes are well-prepared, beautifully plated, and combine subtle flavours that go well together.
Harju 1, Tallinn Old Town 
www.facebook.com/RestoranPegasus

Rataskaevu 16
Rataskaevu 16 is one of the top restaurants in Tallinn on TripAdvisor and it's not just the good food, but the truly superb service that makes this place great. Check their Facebook page for daily lunch specials and be sure to make a booking.
Rataskaevu 16, Tallinn Old Town 
rataskaevu16.ee

Salt
This small Kadriorg bistro aims to share the flavours of the world. Tiina Treumann, owner of Salt restaurant has travelled extensively. "I want to bring the flavours of favourites dishes I have tried and share them here in Tallinn". Try the beetroot ravioli. This colourful dish is fantastic whether you're vegetarian or not. Thinly sliced beetroot is wrapped around fresh goat's cheese and served with pistachios and mango cream. To complement the ever-changing weekly menu, Tiina has composed a drinks list focusing mostly on artisan wines and beers.
Vase 14, Tallinn
www.saltrestoran.ee/

Art Priori
Art Priori aims to combine art and food, though the food is a work of art itself. The balance of flavours is well-executed and the menu is creative and unique. Between the beautiful interior, professional and friendly service, semi-open kitchen to watch all the action, and of course the creative menu, Art Priori is a dining experience well-recommended.
Olevimägi 7, Tallinn Old Town 
www.artpriori.ee/et/

Tokumaru
Located just above the cinema in the Solaris Shopping Centre, Tokumaru is Tallinn's first ramen place. In addition to ramen, there is also a good selection of sushi. For something different, try the Aburi salmon – it's salmon sushi that has been cooked slightly on the top and served with a thin slice of lemon.
Estonia pst 9, Solaris 2nd floor, Tallinn
tokumaru.ee

Ribe
Slovakian chef Radoslav Mitro runs the kitchen at Ribe. His cooking style encompasses the simplicity of local seasonal ingredients, and incorporates elements of classical French and Nordic cuisines. Named one of Estonia's best restaurants, come for a great meal without too much of a splurge.
Vene 7, Tallinn Old Town 
www.ribe.ee/et

Click on the address to see the location.
TEXT KRISTINA LUPP, PHOTOS ANDREI CHERTKOV
To learn more about this and similar topics