Practice Makes Perfect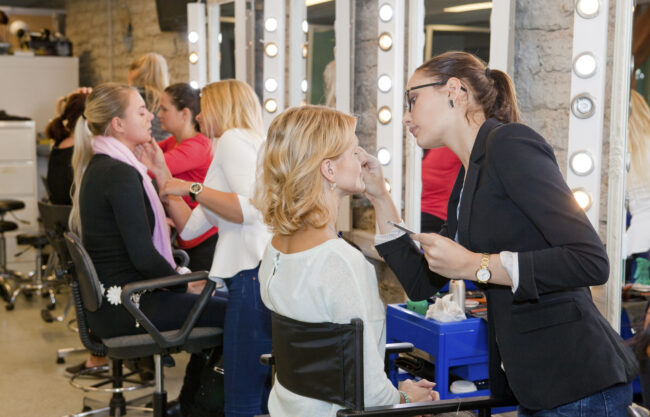 Save money without compromising quality with an appointment at the Estonian Beauty School Teaching Salon.
It's Thursday afternoon and the assignment is to do makeup for your partner in 15 minutes, and go! The clock is on and students are calmly working on their assignment. The teaching salon at the port location of the Estonian Beauty School is the first of its kind in Tallinn. "It offers a unique learning environment that is both comfortable and cosy. It's not your classic learning environment", explains Aimar Karu, director of the school.
The school has 195 students in total, studying everything from hairdressing to cosmetics to massage. Clients can call or make an appointment online on their website http://www.iluteeninduskool.ee/oppesalong. The most popular package among clients is the mani, pedi, facial package for €42. Students are supervised at all times during the appointments, guiding them and being there should they have any questions. "We provide a hands-on learning experience, that often offers better service than a regular salon, because the students are being taught and supervised by some of the best teachers in their fields", explain Aimar.
We tried the soothing facial, complete with neck massage. Make sure you have some time in your calendar because the entire appointment lasts one hour and 45 minutes. After your face is cleaned and exfoliated, your face and neck are massaged with a rich serum. This is the best part of course, because you don't actually realise how tense your face can be. Afterwards, a moisturising mask is applied and then finally moisturising cream to finish off.
Location
Eesti Iluteeninduse Erakool
(Kochi Aidad) 
Kai5/Sadama 6, Tallinn (Sadamarket) 
Open Monday – Friday 10.00-16.00, Saturdays by appointment only.
Click on the address to see the location
TEXT KRISTINA LUPP, PHOTOS ANDREI CHERTKOV
To learn more about this and similar topics