Pärnu Music Festival will begin on July 11 with concerts in Tallinn and Laulusmaa conducted by young conductors
Text Mark Taylor
Photo Tõiv Jõul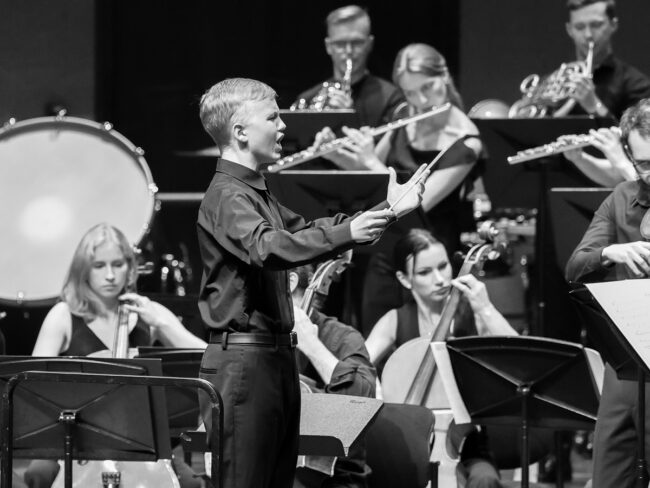 Kasper Joel Nõgene
On July 11, Pärnu Music Festival will give concerts at the Arvo Pärt Center and Jaani Church in Tallinn. These concerts will be conducted by young people from the Järvi Academy's conducting course. This year's Järvi Academy young conductors from Estonia are Kasper Joel Nõgene, Arp Eerik Reindla and Valle-Rasmus Roots.
Concertmaster Theodor Sink of the ERSO cello group will be a soloist, and 31 musicians from Estonia and abroad will play in the Järvi Academy Sinfonietta. The program includes, among others, Arvo Pärt's Mein Weg, Galina Grigorjeva's Molitva and Mozart's Paris Symphony.
"Järvi Academy students have the opportunity to practice conducting under the guidance of Neeme Järvi, Paavo Järvi, Kristjan Järvi and Leonid Grin. This year, 18 talented youngsters from a large number of applicants were chosen", said Helen Erastus, organiser of the Järvi Academy's conducting course.
Estonians Kasper Joel Nõgene and Arp Eerik Reindla, who started conducting while studying in elementary school and high school, got into the Järvi Academy's conducting course this year. While Valle-Rasmus Roots, who often collaborates with top Estonian performers, returns to the Järvi Academy this year.
The Pärnu Music Festival will take place on July 12-21, but will kick off already on July 11 with concerts in both Tallinn and at the Arvo Pärt Center in Laulusmaa. Although tickets for the concert at the Arvo Pärt Center are sold out, tickets are still available for the concert at Jaani Church in Tallinn here.
You can learn more about the festival, its concerts and buy tickets on the official website here.
To learn more about this and similar topicsArvo Pärt Center Classical Music Concert Conductor Järvi Academy Laulusmaa Pärnu Music Festival