Enjoy good food and breathtaking sea views
Text Susanna Poikela
Photos Ruth Raja, Roman Neimann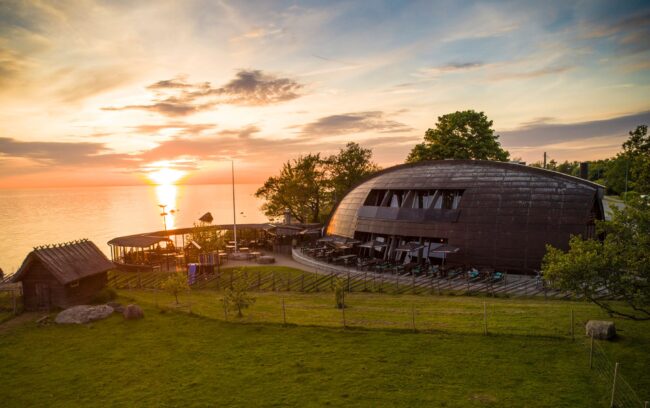 On the terrace of Restaurant Paat you can enjoy good food and a wonderful sea view
Restaurant Paat is easy to recognise. It is housed in a spectacular building that resembles a giant upside-down wooden boat. Architect Indrek Suigusaar succeeded in creating a building that fits perfectly on the shore of the former fishing village.
Paat was opened in 2001. Restaurant manager and head chef Ruth Raja started working there ten years ago. At first she was in charge of the cold dishes. "Designing cold dishes is rewarding because the only limit is your ingenuity," she explains.
Today, Raja has taken on a new role managing the restaurant. "I don't have that much time in the kitchen anymore, but we have a good team of chefs here, with whom we plan the seasonal menus together."
This summer's flavours are light and fresh. In many dishes, for example, mint and vegetables are used to bring a suitable lightness to the plate. In the summer, the restaurant's outdoor kitchen also offers a grill menu.
Ruth Raja's life in the kitchen began in Milan 13 years ago, where she met chef Alberto Barrone. They later opened a restaurant in the famous Navigli area. However, Paat is not an Italian restaurant, but the menu features classic land and sea dishes prepared in a modern way.

Dishes for every palette
When you read the menu at Paat, you inevitably want to try many different dishes. For example, the restaurant manager's favourite shrimp with lime leaf mayonnaise as an appetizer, then an exotic coconut fish soup, the popular halibut fillet as a main course, and the fresh cheese cake as a dessert. 90 percent of the dishes on the menu are lactose-free.
The atmosphere of the restaurant is immediate, welcoming and relaxed. There are more than a hundred seats, and in the summer a large terrace is opened for customers to use, where you
can also find tables protected from the wind. The views of the sea and the centre of Tallinn are fantastic. It is recommended to make a table reservation regardless of whether you come during the week or at the weekend. The reservation system can be found on the restaurant's website. Well-behaved dogs are also welcome.
While visiting Paat, you should also get to know the local area. Next to the restaurant is the Viimsi Open Air Museum, where sheep graze outsode on the small meadow. On Saturdays, a farmers market is organised there between 10 am and 2 pm. There is also cider house "Siidrimaja" nearby.
Paat, Rohuneeme tee 53, Viimsi.

To learn more about this and similar topicsCuisine Food Paat Restaurant Paat Sea View Viimsi Viimsi Open Air Museum