Elisa issues warning about phishing SMS
Text Mark Taylor
Photo Elisa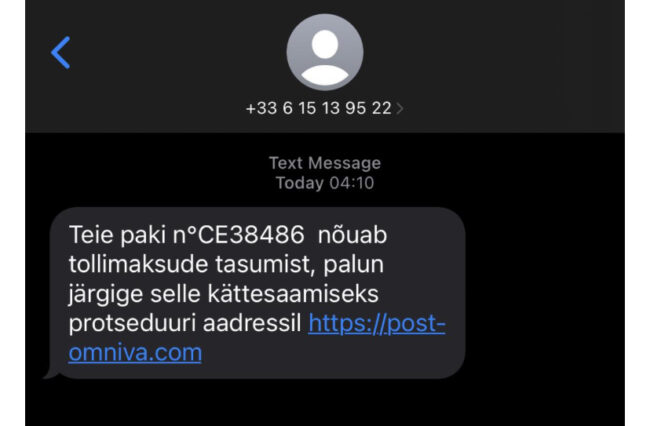 A typical fake message that scammers send to customers of mobile operators.
Telecoms provider Elisa has issued a warning about phishing messages and urges customers of all networks to be especially vigilant so as not to become victims of fraud.
According to Elisa information security manager Mai Kraft, the purpose of the scams is to obtain personal information from customers. "The phishing scams that are now circulating are trying to get access to customers' personal data, bank cards or Netflix accounts," explained Kraft.
According to Kraft, no bank or service provider asks for personal data via SMS. "We urge customers to be careful. If you have any doubts about the adequacy of the request for data, you should contact your service provider to clarify the situation," emphasized Elisa's information security manager.
Kraft notes that phishing messages have become especially widespread in the last couple of years, while in the past customers were mainly worried about scam calls and scam lotteries. "In particular, we noticed an increase in the number of SMS phishing attempts in early May of this year, and now an even larger wave has rolled in," Kraft added.
Messages to clients come from different senders, for example: alert, info, echo, 8943.
Kraft said Elisa is quick to respond to phishing SMS messages if it receives notifications from customers that suspicious text messages are circulating online. "In such cases, we check how many Elisa clients such messages are sent to and determine the connection through which they enter our network. If we discover a phishing attempt, we will immediately notify the relevant Elisa SMS partner or other operator and ask them to block the scam. Phishing messages not yet delivered will be deleted," Kraft said.
"Unfortunately, simply blocking senders isn't very effective as scammers change sender addresses and find new channels to send phishing messages to customers," she added.
Elisa asks its customers to report phishing SMS to this e-mail address: security@elisa.ee. The email should include a photo of the received message, which shows the sender's address and the number to which the message was sent.
To learn more about this and similar topicsElisa Phishing Phishing Messages Phishing SMS Scam SMS Scams