Classic flavours in a modern way
Text and photos Timo Huttunen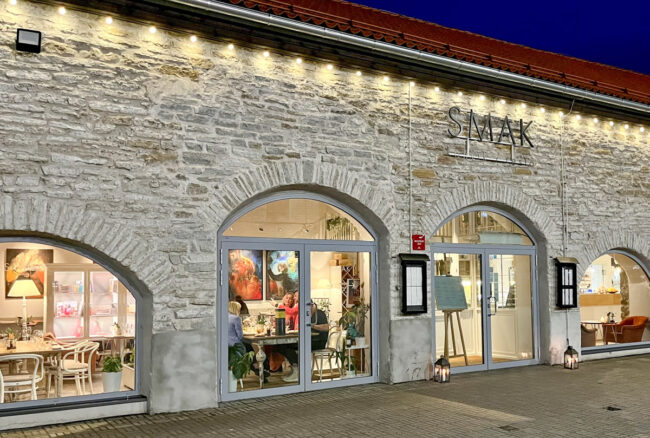 The restaurant is in an old renovated warehouse.
SMAK is located in an old renovated slate warehouse near the D-terminal of Tallinn's passenger port. The area is known as Kochi Aidad. There are other restaurants, boutiques and stores all close by.
The restaurant is decorated simply, but cozily. There are no tablecloths on the tables and the atmosphere is relaxed. There are strong, colourful modern paintings on the walls. Light comes in from the large arched windows.
A spiral staircase leads to a loft above the kitchen, where there are also seats for customers. The restaurant is large and the space is further increased by the height of the ceilings downstairs.
SMAK means "taste" in Swedish. The kitchen is a modern fusion. The restaurant's food is also influenced by the cuisines of different countries. However, the dishes are dominated by classic ingredients and traditional flavours.

The service in the restaurant was friendly, but perhaps too modest. You really had to ask for recommendations. The waiter could also have told more about the food and the concept of the restaurant.
At SMAK, they believe in the philosophy that the best food comes from a combination of passion and imagination.
To begin with, bread baked by the restaurant's own kitchen was brought to the table, which was seasoned interestingly. The fondue made of camembert cheese, sprinkled with truffle, was excellent. The giant prawn starter was also perfect.
The main course was a top-quality beef tenderloin, the request for medium done was excecuted perfectly. The lowest score was given to the seafood risotto, the taste of which was too "fishy" according to the tester.
The portion sizes were also good: after two courses, there was barely enough room for the desserts, which were chocolate parfait and strawberry pavlova, both of which were good.
The wines seemed a bit expensive compared to the Estonian price level, but otherwise the restaurant is quite reasonably priced.
In both 2022 and 2023, SMAK was recommended in the prestigious Michelin Guide that evaluates restaurants.
SMAK resto, Lootsi 10-3, Tallinn.

To learn more about this and similar topicsD-Terminal Kochi Aidad Michelin Guide Modern Cuisine restaurant Scandinavian Food SMAK Tallinn