Changing spa tides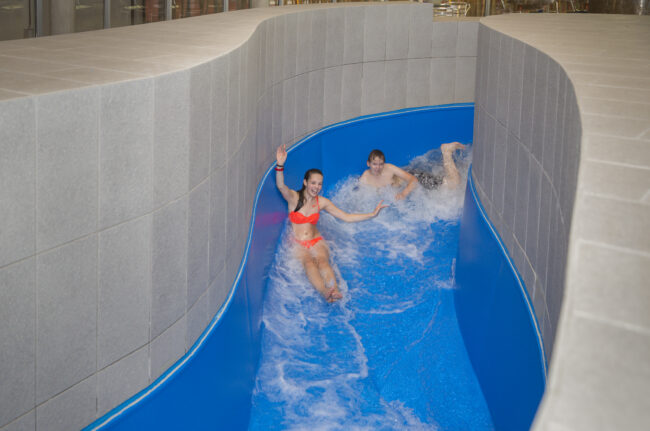 Pärnu's most popular spas Tervise Paradiis and Tervis Medical Spa get a facelift.
The biggest changes at Tervise Paradiis were made about a year ago when the new saunas and huge gym opened.
"Both additions were received very positively", Jaan Ratnik, a member of the board of the company tells us.
Many new changes have been made throughout the last year.
"Before, the beauty salon was located away from the spa area, which meant that clients often had to go in search of it. But now the beauty salon is in a much better location, right near the entrance to the spa".
"From the restaurant side, the Romantic Bar on the eighth floor has been completely renovated", he continues.
Neptun Grill, a favourite among families with children was fully renovated last autumn and now it has a truly Russian atmosphere. The menu has been updated, but don't worry, the legendary stuffed pancakes are still on the menu.
The waterpark is one of Estonia's largest and most popular, and as such, it has been renovated in stages. Visitors can enjoy the adrenaline of the torrential mountain rivers or tube slides.
Spa services are still offered, even during the quieter periods of the year, with the additional services also offered at Tervis Medical Spa.
"At Tervis we have everything: doctors and specialists so we can also offer treatments to Tervise Paradiis clients".
Everything works quickly and efficiently.
"We work together with Synlab and the Pärnu Hospital so that we can offer fast and quality tests. We also have x-ray and MRI capabilities".
You can book tests within a few days and the results come back quickly. An English report of the findings is provided so that you can take it back to your own doctor at home.
New things are also happening at Tervise, where in 2017 a completely new a la carte restaurant will be built and the hotel's reception will be renovated.
"The upcoming renovations will be the biggest so far. The hotel's reception will also have a lobby bar, which it has lacked so far. There will also be a completely new sauna and waterpark".
Renovations will be done during the summer but shouldn't upset hotel guests, according to Ratnik.
The last bit of news about Tervise is the new Purje Café that will open on the sixth floor. In addition to the view and great food, there will also be lots of books in different languages to peruse.
There is an indoor walkway connecting the two spas, meaning that it's nice and comfortable to move between the two buildings, even in winter. The walkway is lined with interesting info points about the spa history. The orange arrows show which direction to go.

TEXT MIKKO VIRTA, PHOTOS TERVISE PARADIIS
To learn more about this and similar topics