A touch of Mexico in Kalamaja
Text Mark Taylor 
Photo Mario Muru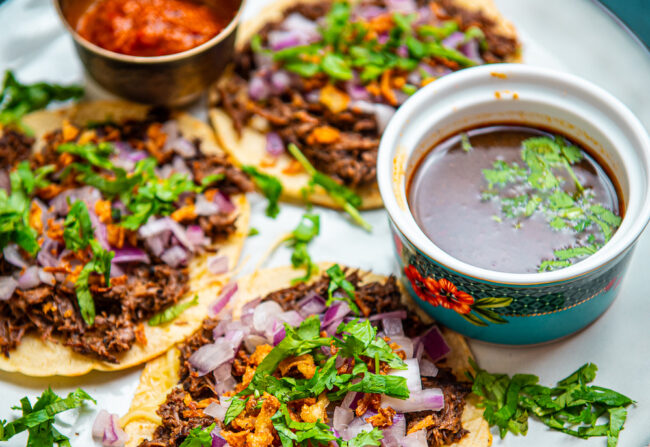 The hearty and full of flavour pulled beef tacos are the most popular on the menu.
"Tacos have always been on my mind" states Mario Muru as we sit down in his cozy new El Camino taco bar on Malmi Street in Kalamaja.
For Muru, who has spent the last few years working abroad in restaurants in Dubai and Thailand. There was only one thing he wanted to do upon his return to Estonia in May of this year – to open a taco place. Even the name El Camino, which translates as "the way" in English, reflects this desire.
By August this dream was already a reality, and despite only having just one paid Instagram post and no other advertising, "from day one it has been busy," Muru states proudly.
At El Camino you will find 4 tacos currently on the menu, "one fish taco, one beef, one chorizo, and one vegan taco. I plan to add a chicken taco to the menu soon," he explains. You will also find fries and Mexican-style loaded fries as side dishes on the menu.
"In Mexico, the tortilla is the most important ingredient." This is why Muru has spent time perfecting and crafting his own recipe. Something that is appreciated by local Mexicans.
The tacos themselves are not authentically Mexican, but a fusion of Mexican, Nordic, and Asian cuisine and cooking techniques with local Estonian ingredients that all combine to create an intricate taste experience.
For Muru, it is about showing how "quality can come from small places, and what from the outside might look humble, serves food with a bang."
However, what is the most important thing for the new restaurant owner, is "that the food gives you a good emotion, and you can go forward with your day with a smile." This is something the street food restaurant, where people prefer to sit and eat in rather than takeaway, is already delivering with regular returning clients coming for their fill of Mexican comfort food.
El Camino Taco Bar is open from 12 noon until 10 pm from Tuesday to Saturday.
El Camino Taco Bar, Malmi 3–2, Tallinn

To learn more about this and similar topicsEl Camino El Camino Tallinn Mexican Food Street Food Tacos Taco Tallinn Tallinn