A "Smash"ing burger taking over Estonia
Text Mark Taylor
Photo Nicolas Bouvy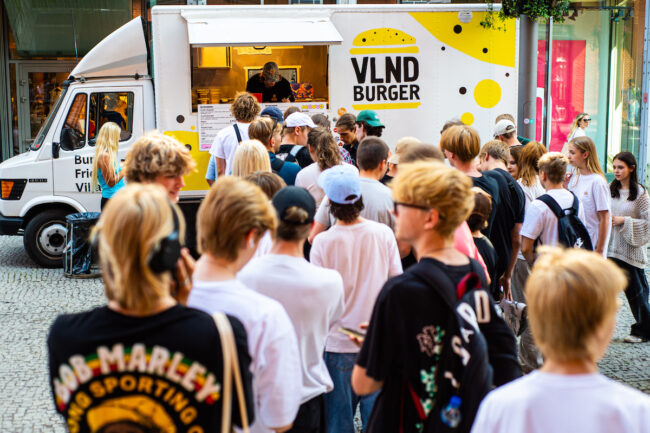 Lines of up to 50 people are common before their food trucks open.
The story of VLND Burger began in Viljandi in 2017 with the intention to make around 70 burgers for family and friends. This sparked a summer of similar events, growing and improving each time.
After that first summer, they decided to buy a food truck which they used to attend events in 2018. The money earned being reinvested back into the food truck, better equipment and ingredients. It was after this second summer that they were invited to open a location on Balti Jaama Turg's food street.
Today, VLND Burger also has locations at Põhjala Tehas in Tallinn (where you will find their newest and experimental burgers) and Lõunakeskus in Tartu, as well as 2 food trucks that travel around the country.
"This summer we went to Helsinki for the Burger Lovers Festival. For 4 days we were serving our new Butter Boy burger," reminisced Semmo Hõrn, the manager of Balti Jaama Turg restaurant. "The burger was so well received that they sold thousands burgers during the festival. This made VLND one of the most popular burgers at the entire festival."
But what has made VLND Burger not just grow, but thrive in what has been a difficult last few years in the economy? For both Nils-Erik Vesberg and Semmo the first key to success is the ingredients they use.
All of the meat used at VLND is organic and locally sourced in Estonia, and the buns (which are all vegan) are made at a small bakery in Viljandi. "We are well known for our buns, and you can only get them at VLND Burger," added Vesberg enthusiastically.
This ethos continues into the production of their own "Peas Out" vegan patties, which are now also sold to a number of restaurants, and stretches to the option of either biodegradable or Ringo reuseable packaging when making your order.
The final key to their success has been their close ties to street culture and skateboarding. Supporting young artists and skateboarders with events, and taking on many as employees. "Some barely know how to hold a knife when they join, but after a few months they have a real passion for burgers," explained Hõrn.
For those of you heading to VLND Burger for the first time, a great place to start is the cheeseburger. "The horse radish and mustard mayo may sound frightening to some, but it is subtle. I have been eating this burger for 5 years and I still love it. It is also the favourite of children," concluded Vesberg.

To learn more about this and similar topicsBalti Jaama Turg Best Burger Tallinn burger Smash Burger Viljandi VLND VLND Burger