A high-end Vegan taste experience in the Old Town
Text Mark Taylor
Photos Ingel Kink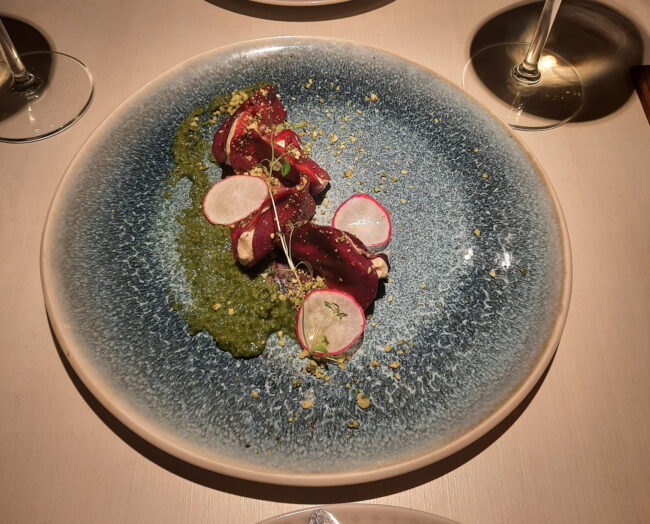 When Vegan Restoran V opened its doors for the first time in April 2014, it became not just the first Vegan restaurant in Tallinn, but in the whole of Estonia. Nearly 8 years on, Vegan travellers and residents of Tallinn have an ever growing list of Vegan cafés and restuarants to choose from, as well as Estonia's first vegan supermarket Rohevalik, that opened this summer. With so much choice in Tallinn today, does V still hold the accolade of the best Vegan restaurant in Tallinn?
In terms of the quality of the food, the answer to that question is a definite yes. It really is hard to find anything better to eat than their speciality beetroot raviolis. The restaurant, which is just off the old town square, is also beautiful. With the age of the building and the interior decorations creating a perfect cozy feeling, especially for a romantic night out.
With the most expensive dish on the menu costing just 12.90 euros, and most main meals costing around 10 euros, the price compared to the quality of the food is unbeatable. It really is high-end food, for a standard price. For its location in the old town, it is certainly one of the best value restaurants you will find.
It is definitely worth booking in advance if you want to eat at V, this is because they don't have many tables, and it is popular. However, the small size of the restaurant really adds to the cozy and intimate experience.
If there is any downside to V, it is the couple of stairs at the entrance, which could make it tricky to access for those in wheelchairs or with severe mobility issues.

To learn more about this and similar topicsRestaurant Tallinn Restaurant V Restaurant V Tallinn Tallinn Vegan Vegan Restaurant Vegan Restaurant Tallinn Vegan Restaurant V