A cheap and fresh new vegan café in the heart of the old town 
Text and photo Mark Taylor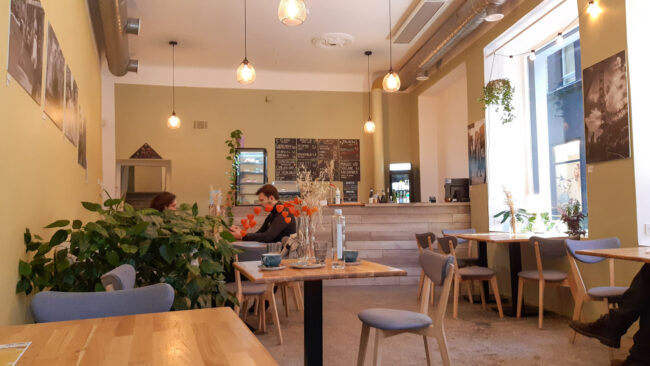 The coronavirus pandemic has seen quite a lot of changes to the restaurant and café scene in Tallinn's old town, with a number of well-known and loved eateries closing their doors to be replaced with new ones. One such change was the closing of the popular Kohvik August on Väike-Karja early last year, to be replaced with a new vegan café – Oats.
The first feeling you get when entering Oats is one of freshness. The décor is simple, it is filled with from light from the big windows, and the service is super friendly and engaging. This comes across in the food too, which is abundant in colour and flavour.
What is nice about Oats is that it doesn't pretend to be anything that it's not. It's simple, honest and decent food at a great price for the old town. To put this into perspective, no main dish costs more than 9 euros, and the average price is about 7.5 euros.
Oats is open from 11 am until 7 pm. This makes the cafe a suitable place to go for brunch, lunch, a little snack while exploring the old town (they have a great selection of vegan cakes), or an early dinner. It is also quite a nice place to get some work done for a few hours.
Because the café is so honest in what it offers, it's hard to say much that is negative apart from the fact that it would be nice if it was perhaps open a couple of hours earlier, but that would likely mean adding a few things to the menu, extra costs, etc., but that is not their aim, just my wish.
To learn more about this and similar topicsOats Oats Café Oats Kohvik Old Town Café Tallinn Vegan Café Vegan Old Town Vegan Tallinn