Vanemuine Symphony Orchestra's spring concert is this Friday
Text Mark Taylor
Photos Kaupo Kikkas, Mait Jüriado, Indrek Arula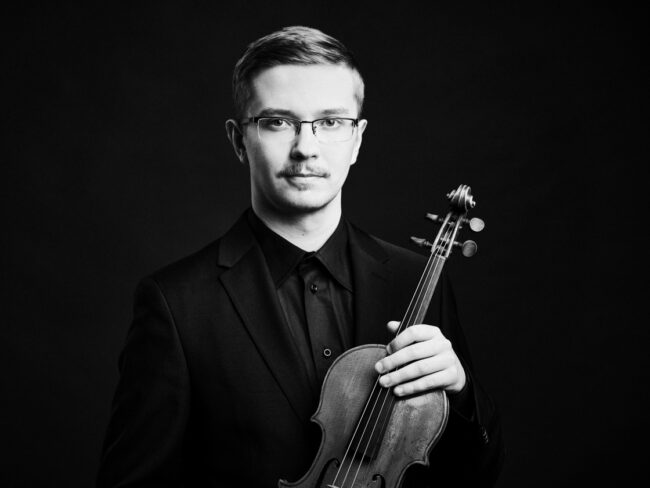 Robert Traksmann
This Friday (March 3), the Vanemuine Symphony Orchestra will perform works by Arvo Pärt and Gustav Mahler as part of their spring concert in Tartu. The concert, which will be conducted by Risto Joost, will see solos from violists Harry and Robert Traksmann and pianist Marrit Gerretz-Traksmann.
Vanemuine Theater's musical director and chief conductor Risto Joost wanted to present a challenge to the symphony orchestra with the concert program, which would develop and test both the nature of the orchestra and its musical craftsmanship.
"This music is based on purity, clarity and precision. I believe that performing and listening to it excites both the orchestra and the audience respectively," said Joost.
The concert will begin with Arvo Pärt's "Orient & Occident", which combines musical influences of both Eastern and Western musical traditions. It will be followed by one of Pärt's most iconic works, "Tabula Rasa", composed for two violins, piano, and a string orchestra. The soloists are Harry and Robert Traksmann on violin and Marrit Gerretz-Traksmann on piano.
"I'm sure I'm not wrong when I say that this trio has performed Tabula Rasa the most times in the world. Hearing how the Traksmann family brings Pärt to the audience is worth more than five Michelin stars," Joost continued.
In the second half of the concert, Gustav Mahler's Symphony No. 5 in C sharp minor will be heard. "Playing Mahler's 5th Symphony is a journey. A self-respecting orchestra that wants to stay in shape and keep up with the times must be technically masterful when performing a repertoire that is true to the era. Mahler certainly presents such challenges while retaining the joy of the performance," concluded Joost.
Tickets for the concert, which cost between 23.20 and 28.20 euros, are available on the Piletilevi online ticketing portal here.


To learn more about this and similar topicsArvo Pärt Concert Symphony Orchestra Tartu Vanamuine Vanamuine Theatre