Tragedy and comedy come will come to life this week at Narva's Opera Days
Text Susanna Poikela
Photos © Martynas Aleksa Lithuanian National 
Opera Archive,
Ilya Smirnov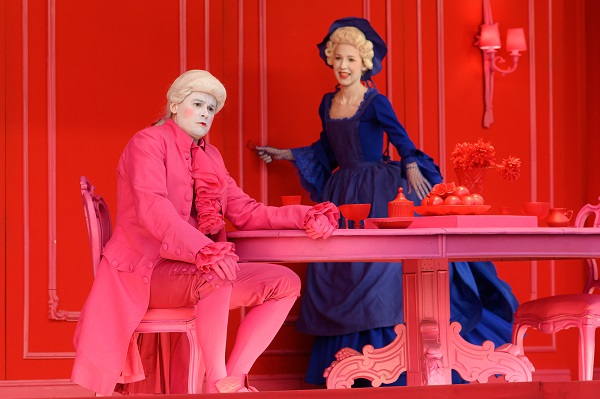 The VII Narva Opera Days will take place at Narva's Kreenholm factory and Narva's Art Residence (NART) from August 16-19. Bela Bartók's opera "Duke Bluebeard's castle" and Francesco Cilea's dramatic opera "Adriana Lecouvreur" will be performed at the festival. This year, the guests of the Opera Days are the Lithuanian National Opera, who will perform Giuseppe Battista Pergoles' opera "La Serva padrona". The Baltic Ballet Theatre, will serve up contemporary dance to the rhythm of Depeche Mode.
GB Pergoles' opera La Serva Padrona (The Maid as Mistress) is a comedic opera about a maid who tries to conquer her master in order to become mistress of the house. The tricks of the witty maid are imaginative and inventive. The directing and staging team by the Lithuanian Opera are equally inventive. The opera will be performed in Lithuanian with a translation provided in Estonian.
An opera by another Italian master will also be heard at the Narva Opera Days. F. Cilea's "Adriana Lecouvreur" is loosely based on true events. At the heart of the tragic drama is the actress Adriana, her beloved Maurice and the Duchess de Bouillon. The music of the Italian composer Francesco Cilea paints the drama of real life into a colourful opera. The plot of the tragedy is an ancient story of love and deadly jealousy. Adriana Lecouvreur will be performed in Italian in the opera tent of the Kreenholm factory.
For ballet lovers, Narva Opera Days offers an "Another world" dance performance based on the music of Depeche Mode and Haruki Murakami's novel "Hard-Boiled Wonderland and the End of the World".
"In this performance, veteran dancers and dancers who have recently graduated from ballet school will dance together. Many of them are Depeche Mode fans themselves. The dance group is unanimous that there is a lot of drama in the words and melodies heard on stage, the dance expression of which requires effort and leaves an unforgettable impression", describes director-choreographer Marija Simona Šimulynaitė.

The second ballet performance called "Flesh" is directed by choreographers Jevgeni Grib and Jack Traylen. The themes of the dance performance are body and soul: How these two are intertwined, how touch and emotions make us experience being alive.
You can find out more about Narva Opera Days on the official website for the event here. Tickets are available at Piletilevi.
To learn more about this and similar topicsBallet Depeche Mode Haruki Murakami Kreenholm Lithuanian National Opera Narva Narva Opera Days Opera