This weekend, Tallinn is celebrating its Old Town Days with a packed schedule of free events
Text Timo Huttunen
Photo Tallinn Old Town Days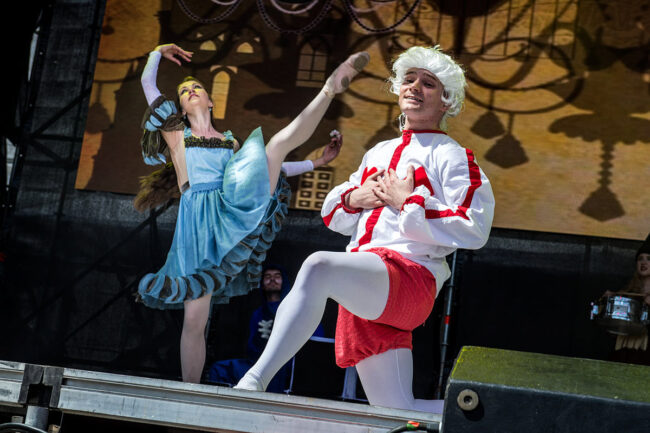 This weekend (3-5 June), the largest festival dedicated to the cultural heritage of the Old Town will take place. Tallinn Old Town Days will highlight the countless points of interest in the medieval old town and showcase a variety of musical, theatre and dance perfomances.
During the weekend, the public is offered a variety of free music, theater, dance, art and sporting events. Guests can also visit the medieval courtyards of the Old Town and take part in various workshops.
Although the Town Hall Square is the heart of the events, often the most exciting events are held somewhere just around the corner or a few streets away.
The most interesting way to enjoy the program of the day is to take the program booklet and walk around the Old Town. There is hardly a place during the Old Town Days that does not have a special program related to the event. Something is happening somewhere all the time.
Tallinn Old Town Days has been held in the city since 1982 and can be considered the first city festival in Estonia.
However, medieval Tallinn has not always been in vogue. In the 1960s, for example, there was a desire to demolish up to 80 per cent of the historic buildings, but fortunately patrons held their ground and they were saved.
This year's Old Town Days already mark's its 40th anniversary. More than 400 events will be held over the three days.
Both performers and enthusiasts will entertain visitors. There will be dance and theater, circus, art and a wide variety of music on offer. Concerts can be heard in churches and the town hall. Various exhibitions are also offered to the public free of charge.
There will be a free concert in the Town Hall Square every night during the Old Town Days.
The free opening concert of the festival will take place on June 3 at 7 pm in the Town Hall Square. The band performing will be Lexsoul Dancemachine.
On Saturday, rapper Reket will perform at the same place and at the same time. After Reket, the band Smilers will be on stage at 8.30 pm.
The legendary band Kukerpillid, which formed 50 years ago this year, will perform at the Town Hall Square on June 5 at 5:30 pm and will be followed by the final concert of Tallinn Old Town Days "Retrospective 40", which starts at 7 pm. Stefan, Laura Prits, Kaire Vilgats, Dagmar Oja and Alika Milova will all perform.
To learn more about this and similar topicsKukerpillid Old town Smilers Stefan Tallinn Tallinn Old Town Tallinn Old Town Days