This week, Tallinn Kellerteater will present a wordless comedy about chronic loneliness
Text Timo Huttunen
Photo Siim Vahur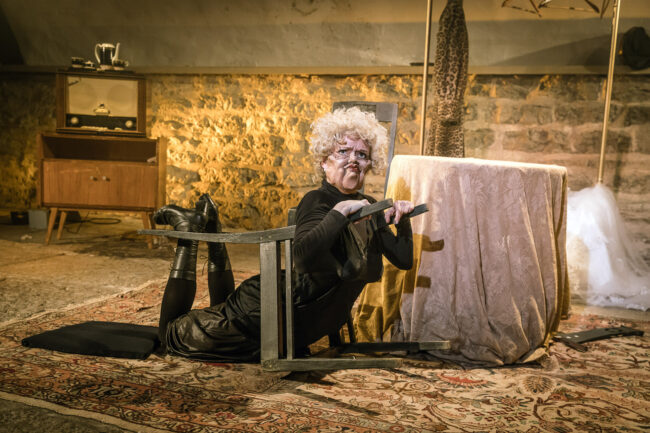 Kellerteater and the Finnish theater Metamorphosis have collaborated (co-operation) on a one-hour play by Madame Brigitte. The performance is a wordless camouflage comedy starring Sandra Lange. The play premiered on May 26th and the last performances this autumn are on October 27th and 30th.
The play is a grotesque performance of a woman fleeing loneliness. What happens if eavesdropping on your neighbours has become your only relationship? When do dreams become nightmares? What happens when loneliness has become a chronic passion? The performance is a story of courage to take the first step towards intimacy.
The play is directed by Soile Mäkelä. The assistant director is Minka Laukniemi. The performance has been assisted by the TelepART program and the Estonian Institute in Finland.
Located in an old powder warehouse, the Kellerteater is an interdisciplinary theater where, along with theatrical performances, literature, art and films are also exhibited. In addition, in the atmospheric theater you can meet artists from different fields and enjoy good company.
To learn more about this and similar topicscomedy Estonian Institute in Finland Estonian theater Kellerteater performance play speechless theater performance