The young and award-winning violinist Hans Christian Aavik will perform in Estonia this week
Text Susanna Poikela
Photo Aivo Kallas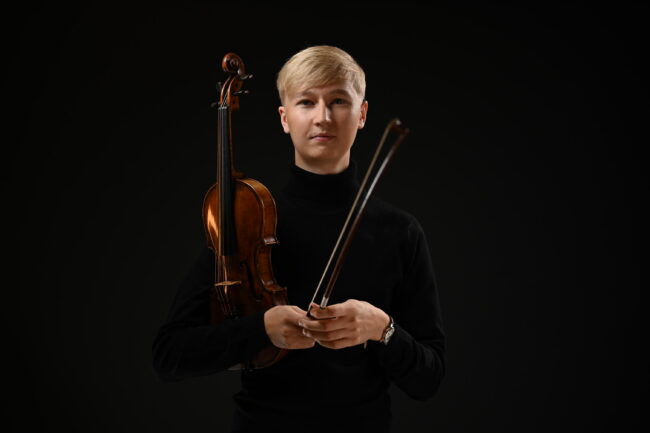 "The violin sings, laments, dances, raves, mourns, and caresses in his hands. Aavik's handling of the instrument is characterised by mental and physical integrity. Behind the bright, tense, and philosophical interpretation lies a curious mind, openness, gratitude, and respect for the composer and the listener." With these words, the culture magazine Sirp described Aavik's music in 2020.
Hans Christian Aavik (1998) is one of the most important Estonian violinists of the moment. He has adopted a versatile style and his playing has a clear sound characteristic of Aavik.
Aavik started playing the violin at the age of five. In 2017, the 19-year-old young student went to study the violin in Germany before completing his studies in Vienna.
Since then, he has won many domestic and international competitions, including the Carl Nielsen International Competition in 2022, and a year earlier in the soloist category of the international "Cadenza Contest". In addition, he has won the "3rd Làszlò Spezzaferri International Music Competition" and in his home country the Estonian String Competition.
Hans Christian Aavik currently plays a Giovanni Paolo Maggini violin made around 1610 in Brescia, Italy and a Victor Fétique violin made around 1930 in France.
In his three concerts in Estonia this week from November 1 to 4. Aavik will perform, among others, the premiere of Kristjan Randalu's "Uus teos" and Enescu's Violin Sonata No. 3 in A minor. The two-part concert lasts just under two hours and tickets can be bought at Piletilevi. Tickets cost between 14.50–23.50 euros. His concert on November 4 in Jõhvi will see him take to the stage together with pianist Karolina Aavik.
Hans Christian Aavik's concerts in Estonia this week are as follows:
01.11. Vanemuise Concert Hall, Tartu.
02.11. Estonia Concert Hall, Tallinn.
04.11. Jõhvi Concert Hall, Jõhvi.
To learn more about this and similar topicsClassical Music Concert Estonia Concert Hall Hans Christian Aavik Jõhvi Concert Hall Karolina Aavik Vanemuise Concert Hall Violin