The Seto people of South Eastern Estonia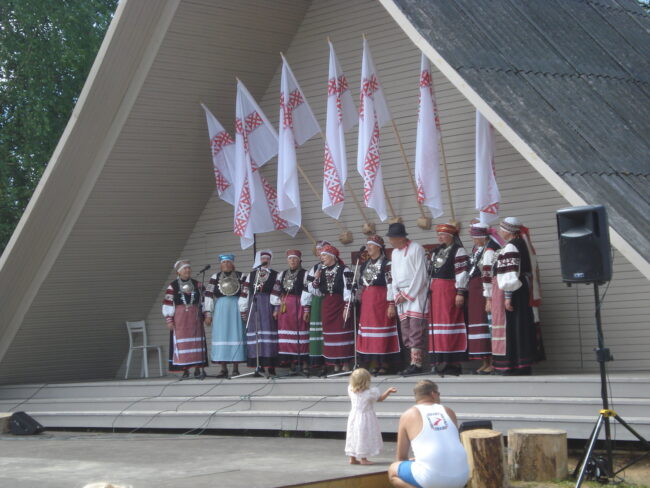 The Seto people live near the Estonian-Russian border, about 300 km from Tallinn.
When Estonia regained independence, their historical centre, Petseri became part of Russia. Today, most Seto people (of which there are about 10,000) live in Estonia, even though the original centre of their community now belongs to Russia. Setomaa is made up of the following municipalities: Meremäe, Mikitamäe, Misso, and Värska.
Seto culture has risen in popularity over the last few decades. During the Soviet period their culture was not appreciated, but now their traditions are quite well-known throughout Estonia. For example, the folk-rock band Zetod is quite popular among younger generations. The traditional Seto singing, known as leelo is on the UNESCO Representative List of the Intangible Cultural Heritage of Humanity.
Every year on the first Saturday of August, Seto Kingdom Day takes place. This is when the Seto people choose their new king, the cultural representative of the community. This year, Annela Laaneots was chosen, who is among other things, the founder of the Tallinn Seto children's school. Different masters of various trades like the making of the local moonshine (hans´a), cheese, bread, and handicrafts are also chosen. The best dancers, singers, and musicians also compete for a similar title.
Setomaa is worth visiting at other times of the year for its unique architecture and stunning natural setting. The ten small chapels or tsasounat are also worth a visit. Three years ago a book was published that presented 158 different small chapels. Cemeteries date back hundreds of years and quietly tell their own tales. The singer Anne Vabarn's monument can be found at the Värska cemetery.
The Seto Farm Museum is in Värska and you can familiarise yourself with the local food culture at the Tsäimaja. There is also a part of the museum located in Saaste, however you cannot stop on the way there, as you will be passing through Russia to get there.
During the winter, the museums and the Tsäimaja are closed on Sundays and Mondays. In Obinitsa, in Meremäe, the museum is open every day. There is also a cotton and linen museum in Tsiistre, in Misso.
Text & Photos Mikko Savikko
To learn more about this and similar topics