A wonderful view of Tallinn awaits from the top of the tower of Niguliste Museum
Text Susanna Poikela
Photo KUMU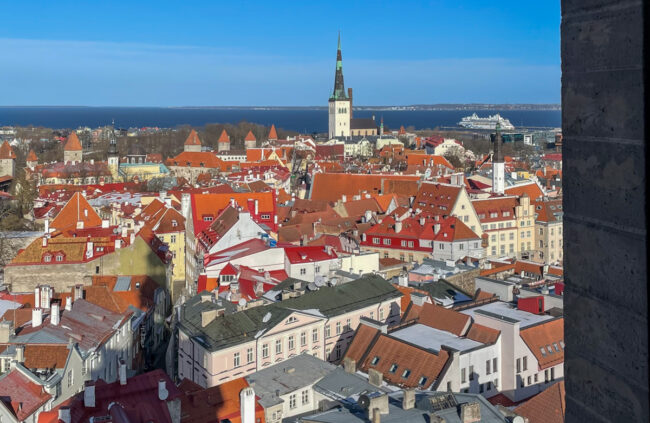 A 360-degree view of Tallinn from the top of Niguliste Church.
After almost a year of renovation, the Niguliste Museum in Tallinn's old town has reopened. The elevator and viewing platform, which were completed in connection with the extensive construction works, are unique in all of Estonia.
Visitors get to see the medieval church tower in a unique way for the first time. A glass elevator passing through three floors leads to the tower's "Angel's floor", where the viewing platform offers breathtaking views of Tallinn and beyond in all four directions. The newly completed elevator also enables disabled people to access the tower and viewing platform.
The tower's architecture and details can also be explored by walking up the renovated staircase. By climbing the stairs, you get to know the architecture of the medieval tower in more detail.
The restoration work has also brought changes to the museum's permanent exhibition. A new exhibition space has been built on the site of the former choir loft of the small chapel, which displays a collection of medieval wood sculptures and altarpieces.
The museum still displays world-renowned works of Estonian medieval art, such as Bernt Notke's medieval painting "Dance of Death", a double-winged altarpiece made in Hermen Rode's workshop, and the silverware of guilds, trade unions and brotherhood of the black heads.
In addition to the permanent exhibition, a temporary exhibition opened on May 4, called "Michel Sittow in the North? Altarpieces in Dialogue". The exhibition brings together two late medieval altarpieces, Tallinn's Kärsimy altar and the Bollnäs' Holy Kinship altar from Sweden.
The wonderful Bollnäs altarpiece was probably made in Tallinn in Michel Sittow's workshop between 1469 and 1525. The exhibition focuses on Michel Sittow's activities in his hometown and the role of Tallinn as an artistic centre in the Late Middle Ages.
After you have visited Niguliste, you should stop by the nearby Adamson-Eric Museum, where until the end of the summer there is an exhibition entitled "The Forest Behind the Trees". Fascinating paintings of Estonian forests and natural landscapes from the time of the Soviet Union have been collected in the exhibition.
With a joint ticket, entry to the museums is cheaper. Both museums are open from Tuesday to Sunday from 10 am until 6 pm.
Niguliste Museum, Niguliste 3, Tallinn
Adamson-Eric Museum, Lühike jalg 3, Tallinn
To learn more about this and similar topicsAdamson-Eric Museum Church Medieval Art Medieval Tallinn Museum Niguliste Museum Old town Tallinn