Explore 50 years of Estonian handbag design 
Text Mark Taylor
Photos Meeli Küttim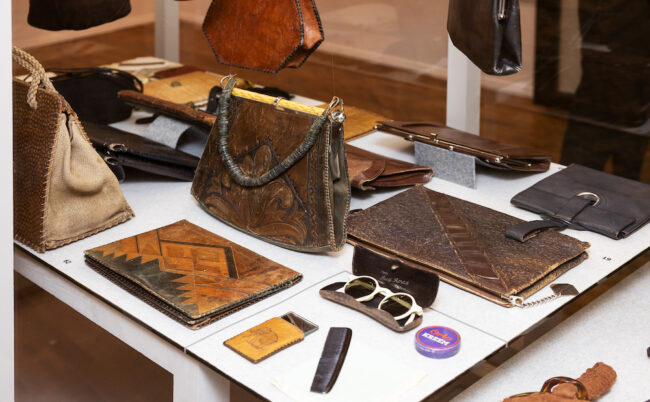 A new exhibition, which tells the story of Estonian handbag design in the first half of the 20th century, has opened at the Tallinn City Life Museum. The main focus of the exhibition is on the changing role of women between 1900 and 1950 and how this was reflected in the types of bags they used.
The first half of the last century saw big developments in handbag design. Innovative technical solutions were invented, new bag types and styles were added, and design principles that are still in use today were introduced.
The exhibition entitled "Everyday companions. HANDBAGS 1900–1950" focuses on handbags worn and made in Estonia. You can see historical rarities from the turn of the 20th century, when the handbag was a daily necessity and carrying it everywhere was just beginning to spread, to samples from the post-World War II standstill years. By that time, bags had become an indispensable consumer item, but their design relied on the achievements of previous decades. A total of 100 handbags are on display in the exhibition, four of which were made in Eduard Taska 's workshop.
It is also possible to get acquainted with the items that were carried in the bags. In this way, using the contents of one bag as an example, you can get an idea of the ways in which handbags were used in each decade: what was included in a lady's afternoon bag, what was included in a handbag worn with an evening dress, or a beach bag.
The bags displayed in the exhibition come from the collections of Tallinn City Museum, Estonian History Museum, Estonian National Museum, Pärnu Museum, Narva Museum and Virumaa Museums, Palamuse O. Lutsu Parish School Museum and Rannarhava Museum and the private collection of Jaana Päev.
The exhibition will be open at the Tallinn City Life Museum until the end of 2024.

To learn more about this and similar topicsEduard Taska Estonian Design Estonian Handbag Design Exhibition Handbag Handbag Exhibition Tallinn Tallinn City Life Museum