The opening exhibition of the EKKM season says goodbye to Eastern Europe
Text Mark Taylor
Photo Mark Raidpere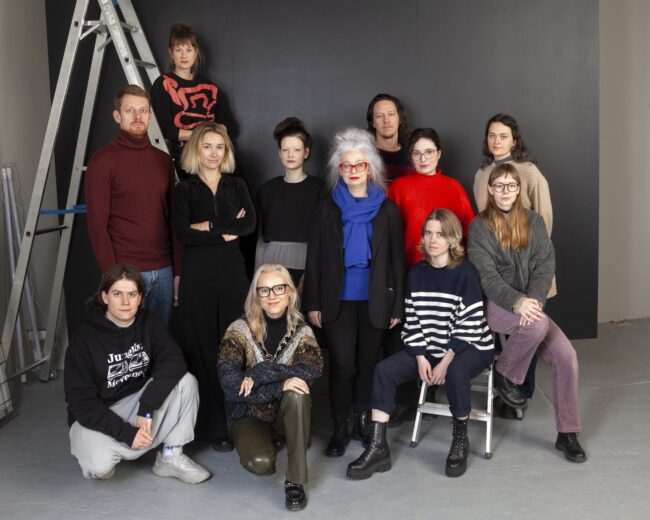 Johannes Säre, Evelyn Raudsepp, Maris Nisu, Katariina Kesküla, Kadi Kesküla, Johannes Luik, Anita Kodanik, Brigit Arop, Mark Alexander Ummelas, Maria Helen Känd, Laura De Jaeger and Sabina Liselle Ummelas.
The opening exhibition of the 17th season of the Contemporary Art Museum of Estonia (EKKM) is based on the current and burning political situation in Europe – Russia's invasion of Ukraine.
Curator Tanel Rander observes in his exhibition "Goodbye, Ida! Goodbye, Narcissus!" Eastern Europe as a collective consciousness in a complex relationship with the aggressor state, in which narcissistic and co-dependent manifestations are manifested. According to Rander, clinging to the identity of Eastern Europe, which is based on only one short historical stage, is no longer justified and can be dangerous for us, preventing us from healing and development. The artists participating in the exhibition interpret changes in the self-image of Eastern Europe in a sensitive and conceptual way. The exhibition will open with an event on the evening of April 14.
From August 23, Jaanus Samma's personal exhibition of historical case studies, which illustrate the connection of national narratives and myths from different angles, will open. In the exhibition, you can expect to see installations that satirize national myths, distort the image of the hero, and undermine conservative morality. The curator of the exhibition is Krist Gruijthuijsen, director of the KW Institute for Contemporary Art in Berlin.
The season ends with the international group exhibition curated by Maria Helen Kändi, which will open on October 27 "Primal wound", which focuses on a woman's bodily experience and sexuality, offering alternatives to the image of femininity prevalent in the media, awakening different visions of what is exciting and attractive through the feminine eye.
For the second season in a row, an outdoor artistic project dedicated to the ginkgo tree, led by artists Tanja Muravskaja and Margit Säde, will be visible in the courtyard and gardens of EKKM.
The museum will also continue with regular guided tours in four languages (ET, RU, EN, UA), as well as performances, workshops and conversations corresponding to the exhibitions.
During the 2023 season, EKKM will be open from 12-19, Wednesday to Sunday. Visiting the museum and its exhibitions is free of charge.
To learn more about this and similar topicsArt Contemporary Art Contemporary Art Museum of Estonia Eastern Europe EKKM Exhibition Tallinn Women